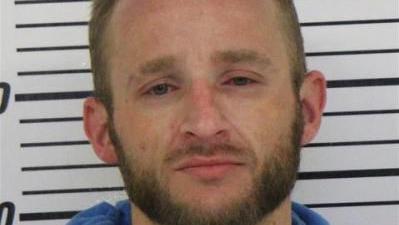 A LeClear man who was accused of selling methamphetamine to an undercover agent with the quad-city Metropolitan Enforcement Group in January has been re-arrested on drug charges.
Jackery L. Waugh, 35, was arrested Saturday evening by the Scott County Sheriff's Office on charges of warrant charging with intent to deliver a counterfeit or counterfeit controlled substance, which contains a detectable amount of a substance claimed to be methamphetamine. The charge is a Class B felony that can carry a prison sentence of up to 25 years.
Waugh was also charged with possession with intent to deliver psilocybin mushrooms, a Class C felony punishable by up to 10 years in prison and a fine of between $1,370 and $13,660, and failure to affix a drug tax stamp, a Class D felony. The felony is punishable by up to five years in prison and a fine of between $1,025 to $10,245.
He was being held in Scott County Jail on $40,000 cash-only bond.
According to the arrest affidavit, the Scott County Sheriff's Office and the LeClear Police Department executed a search warrant at Vaughan's residence in LeClear, where they found vacuum-sealed drug packaging and 370 grams of a crystal-like substance resembling meth. According to the affidavit, in a later interview with Miranda, Waugh told officers he would use a crystal-like substance to mimic methamphetamine. Officers also found a digital scale, $5,450 in cash in duffel bags and 24.57 grams of psilocybin mushrooms.
,