A Web3 artwork by Armit Paul | Photo Credit: Special Arrangement
The convergence of art and technology has been a hot topic for connoisseurs and collectors since the beginning of this year as AI (Artificial Intelligence) art and photography continues to flood social media. While the possibilities are endless, there is a lot of skepticism in the art world about the relevance of NFTs and the role that AI will play. An event called Nammaweb3, recently held at Off the Record in the city, attempted to answer some of these questions through panel discussions and digital art exhibitions featuring a range of NFT artists, photographers and collectors.
The event, organized by Namma Tribe in association with Colors of India, marked a significant moment in the cultural landscape of Chennai by starting a conversation about Web3 (a decentralized version of the web). "Web3 gives freedom and acceptance to artists who want to spread their message," said Dr. Wafu, an anonymous NFT artist whose Web3 art offers a fresh perspective on Indian mythology. For example, Shakuntala is wearing sneakers in a modern version of the saree.
Meanwhile, Deepakshi Agarwal, another Chandigarh-based NFT artist, highlighted the potential of Web3 in supporting worthwhile causes. Through her art, she hopes to raise funds for NGOs working for the welfare of exotic animals. His artwork Strange Addiction fills the subconscious with high-tech society and Dessa the Obeke, inspired by Yakuza culture in Japan.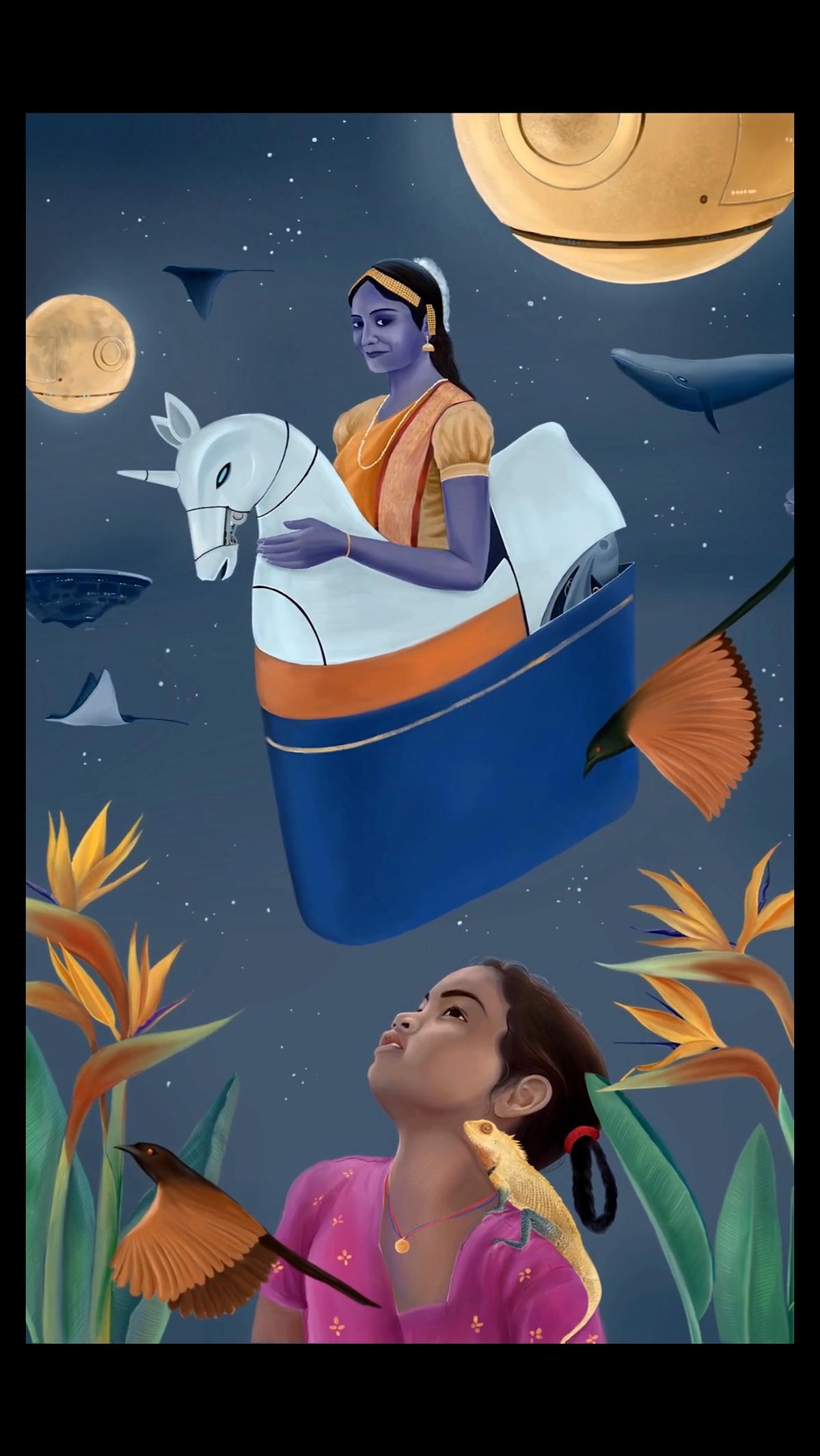 A Web3 artwork by Vimal Chandran | Photo Credit: Special Arrangement
When asked if more women are now entering the world of Web3, Deepakshi says, "Web3 has a huge pool of women who appreciate art and bring in the most sales."
An established caricature artist whose work attracted massive attention in 2016 on websites such as 9gag and was displayed in New York's Time Square, Prasad Bhatt entered the Web3 community in 2021 and began creating his NFTs. When asked about the possibility of AI replacing an artist, Prasad explains, "Even though AI enables an ordinary person to create art, the thought process and creativity are completely tied to the person creating the masterpiece." " He encourages people to enter the Web3 community where users learn all about AI and Midjourney (a generative artificial intelligence program) before the public.
Arijit Das, an avid collector of molded NFTs, enriched the conversation with his firsthand experience as a collector. It enables artists to claim ownership of their stories and receive fair royalties. His most prized artwork is by Vimal Chandran science fiction folk Which presents the vibrant folklore of Kerala from the perspective of a child.
Globally recognized freelance photographer Dheeraj Kandeval said, "AI can help a person stretch the canvas of a picture if he misses a specific angle or spot, which can help save money for someone who is in need of a photo." Might not have to re-shoot it."
The turnout for the event is testament to Chennai's growing presence in the technology landscape, firmly establishing the city as a hub of innovation and creative expression in the digital age.