Thirusemponpalli, a small town in Nagapattinam district, secured a place in the cultural history of Tamil Nadu, thanks to the hymns of Saivaite minstrels Thirunavukkarasar and Thirugnanasambandar, who had sung in praise of Swarnapureeswarar, the presiding deity of the local temple. It is known as Sembanarkoil, a corruption of Semponnarkoil. Semponnar is the Tamil version of the Sanskrit word Swarnapureeswarar.
In the 20th century, the town became synonymous with nagaswaram as it is the birthplace of Semponnarkoil Ramasamy Pillai, an exponent of rakthi melam — playing jathis and no sahityam — and the first nagaswara maestro to cut a disc, which is still available for listeners. 
Writing in Cauvery, a literary magazine published from Kumbakonam, Nagaswaram wizard Thiruvavaduthurai T.N. Rajarathinam Pillai had said since the age of 12 he had listened to Semponnarkoil Ramasamy Pillai, Nagore Subbaiah Pillai and Mannargudi Chinna Pakkiri. 
"I first listened to Rajarathinam Pillai playing the nagaswaram when I was hardly 11. I would go to Thiruvavaduthurai Mutt with my father S.R. Govindasamy Pillai, who was one of the asthana vidwans," recalls SRG Rajanna, who received the Mumbai-based Sri Shanmukhananda Sabha's National Eminence Award for nagaswaram to mark the 125th birth anniversary of Rajrathinam Pillai. He was presented a cash award, a gold chain and gold-plated nagaswaram and a kuthuvilakku. "We are indebted to the sabha for organising such an event to honour Rajarathinam Pillai," he says.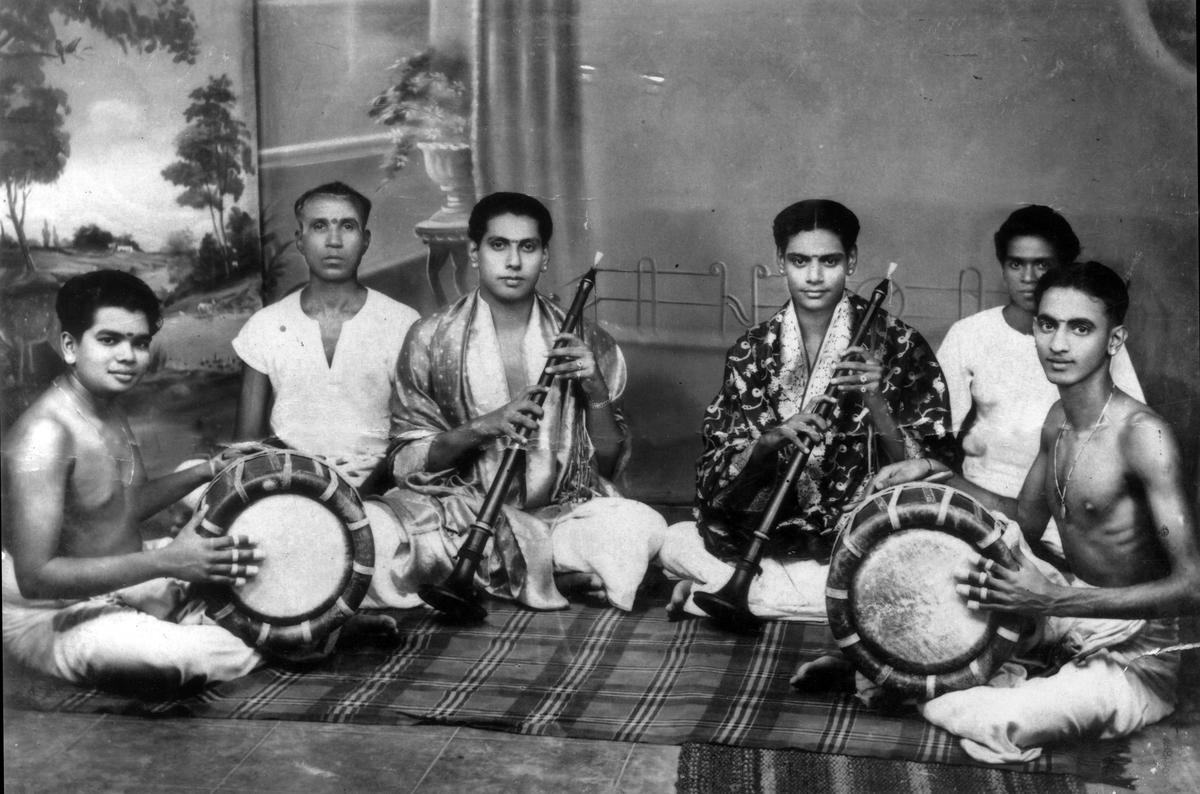 A conversation with Rajanna turns the clock back to the period when music echoed in the nook and crannies of the composite Thanjavur district. Great musicians of the yesteryear, particularly nagaswaram and thavil players, emerge before your eyes.
"Everyone waxes eloquence on his Thodi. But every raga assumed unfathomable depth and beauty when he played. How can I even explain it? It is like the cool air from an air-conditioner on a hot day," says Rajanna, who had also played with Rajarathinam Pillai in Thiruvavaduthurai. His father and Thiruvidamaruthur Veerusami Pillai were among the adheena vidwans of Thiruvavaduthurai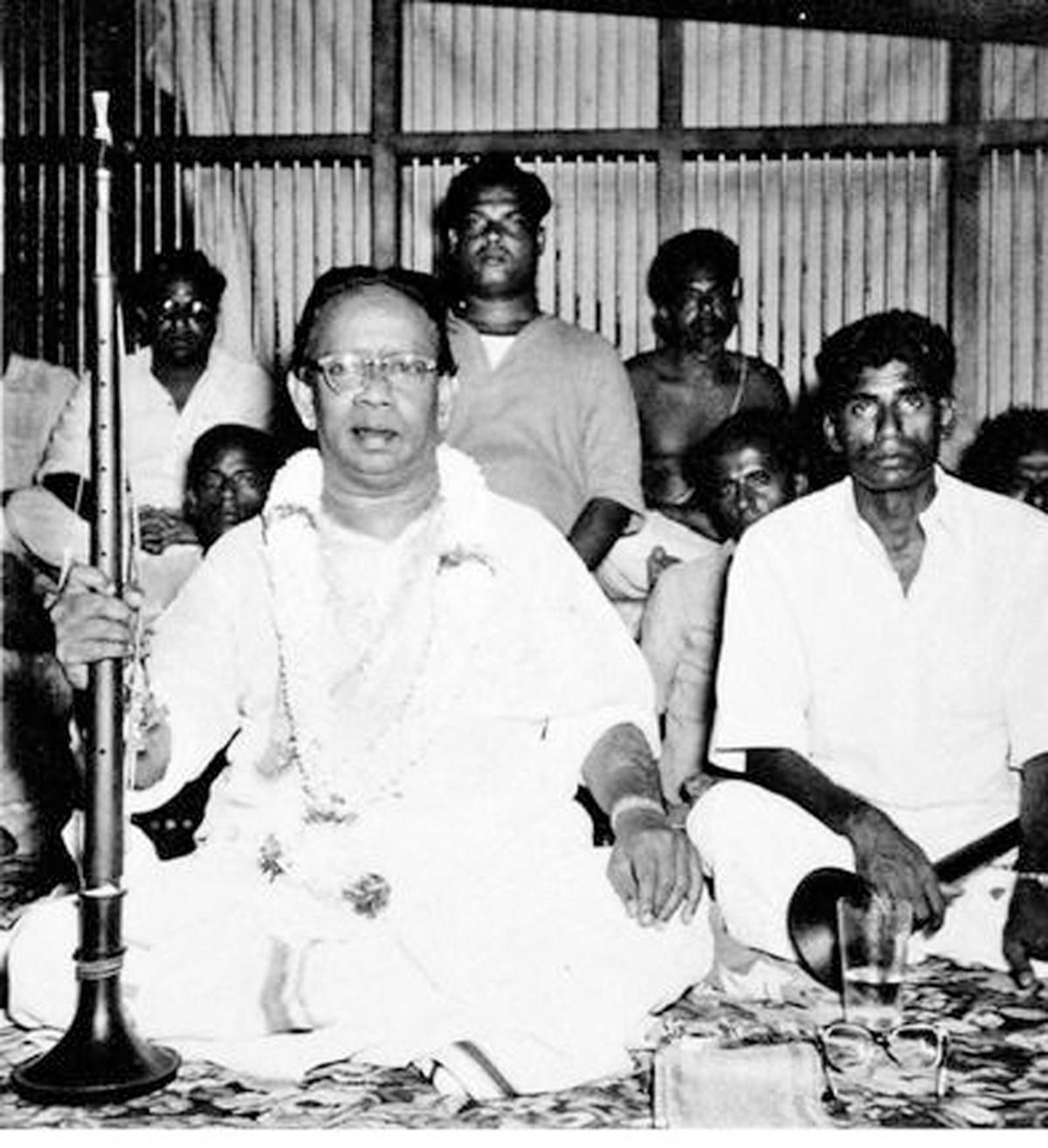 In his book, T.N. Rajarathinam Pillai, Charisma, Caste Rivalry and the Contested Past in South Indian Music, Japanese scholar Terada Yoshitaka writes, "two brothers may play nagaswarams together as a team and if one of the brothers is known as a particularly good player, his name is sometimes added to the name of the ensemble, as seen in the case of the Semponnarkoil Govindasamy Brothers."
"Even though my father and uncle Dakshinamoorthi Pillai (father of S.R.D. Vaidhyanathan) would play during the festivals at Thiruvavaduthurai Mutt, I would prefer to listen to Rajarathinam Pillai. Once when Rajarathinam Pillai spotted me, he asked if I was the son of Govindasamy Pillai annan? Then he said, 'vaasi da' (play)," reminisces Rajanna.
As a boy, Rajanna was sent to Panthanaithanallar, known as Pandanallur, an important school of Bharathanatyam represented by Meenakshisundaram Pillai, to learn nagaswaram from Vengugopala Pillai and Govindasamy Pillai. 
The 92-year-old Rajanna, who represents the seventh generation of the Semponnarkoil school of nagaswaram, teamed up with his brother SRG Sambandham, who was senior to him by 10 years. 
"He used to play with another nagaswaram player from Papanasam. One day I told him I would not allow him to go to the concert unless he made me his musical partner. Thus began our journey as Semponnarkoil Brothers," says Rajanna, whose aunt was married to Thiruveezhimizhalai Subramania Pillai, the first nagaswaram artiste to win the Sangita Kalanidhi award.
Subramania Pillai and his brother Natarajasundaram Pillai dominated the Carnatic world for many years. They were known for their perfect rendition of kritis, while Rajarathinam Pillai was known for his elaborate rendering of ragas. Semmangudi Srinvasa Iyer had once accompanied M.S. Subbulakshmi to Thiruveezhimizhalai to learn some kritis from Subramania Pillai. Chellai Iyer of Tiruvaiyaru, who was associated with the Tygaraja aradhana for long, would say that none could match Natarajasundaram Pillai when it came to playing the utsava sampradaya kritis of Tyagaraja, particularly 'Uyyala loogavayya' in Neelambari.
"True. He was my uncle. But his rendering can also not match Rajarathinam Pillai's raga alapana. Have you listened to him perform live? What a great loss if you have not," says Rajanna, who preferred to talk more Rajarathinam Pillai's music than his own journey.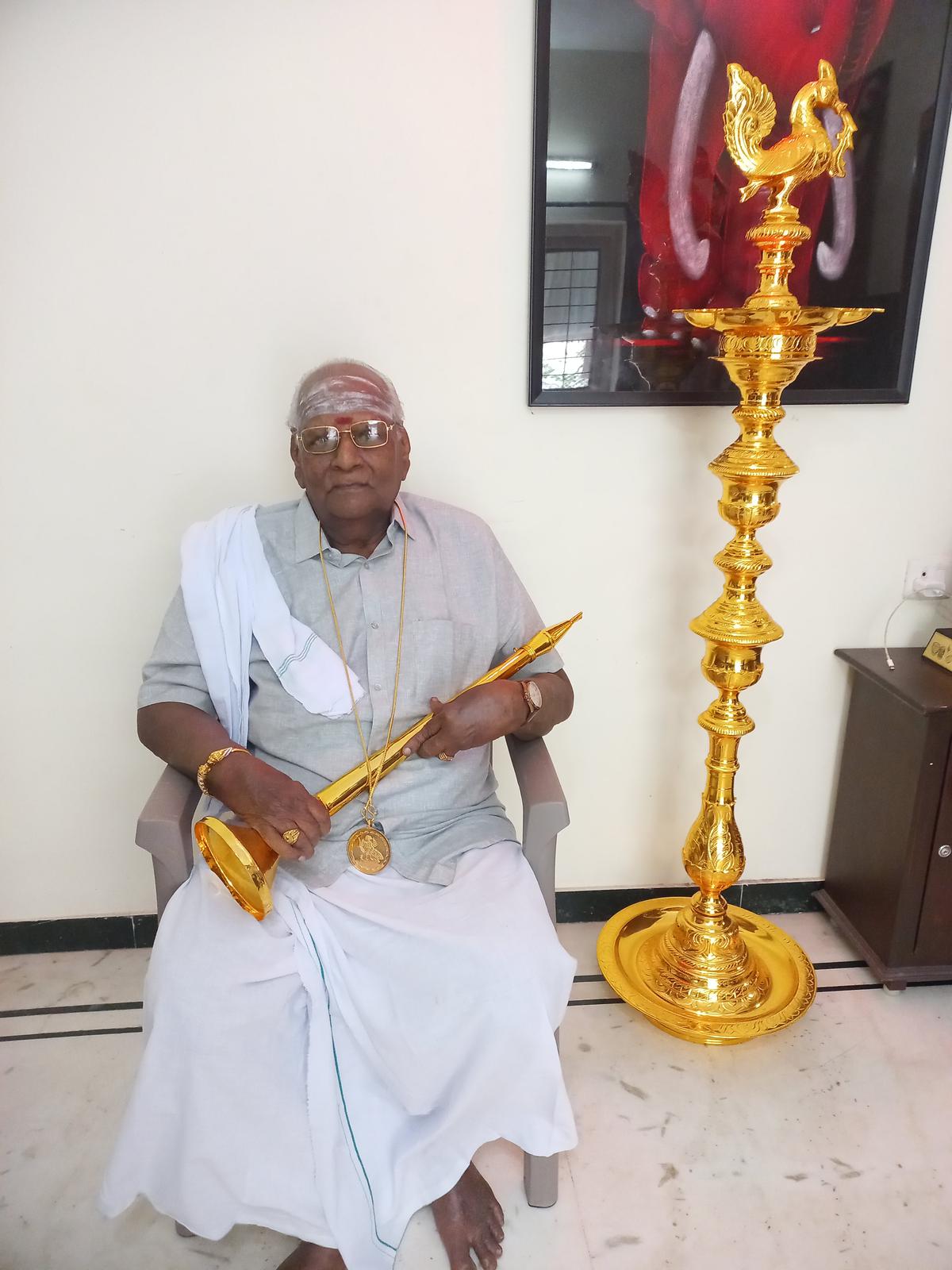 He recalls how the head of the Thiruvavaduthurai Mutt would instruct changing the palanquin's position during pattinapravesam to listen to Rajarathinam Pillai and Dakshinamurthy Pillai. 
"The ragas he played inside the mutt still rings in my ears," says Rajanna, who lived in Mayiladuthurai till the 1990s before moving to Chennai. In Mayuranathaswamy temple in Mayiladuthurai, where he had played with his elder brother, Rajanna also had a chance to listen to other great musicians.
Another nagaswaram player Rajanna was inspired by was Vedaranyam Vedamurthy. He also mentions Needmangalam Shanmugavadivel, the son of Needamangalam Meenakshisundaram Pilla, and his mastery over thavil.
Asked why he did not allow his sons to pursue a career in nagaswaram, Rajanna says, he did not want them to be competitors for his elder brother's children. "Moreover, I am not sure whether my sons will measure up to the standards of the Semponnarkoil style of playing."