As Sharad Pawar on Friday announced that he will withdraw his decision to step down as the Nationalist Congress Party (NCP) president, both Congress and Shiv Sena (UBT) — the Maha Vikas Aghadi constituents — welcomed the move.
"I am glad that Sharad Pawar ji has withdrawn his decision of resigning from the post of NCP chief. His guidance and the leadership is required for the ongoing struggle to save democracy in the country," Maharashtra Pradesh Congress Committee general secretary Sachin Sawant said.
9/track_1x1.jpg" alt="" width="1px" height="1px" "/>
Earlier in the day, immediately after the NCP committee unanimously decided to reject the resignation of Pawar, Shiv Sena (UBT) MP Sanjay Raut had said that the committee's decision was right and welcomed.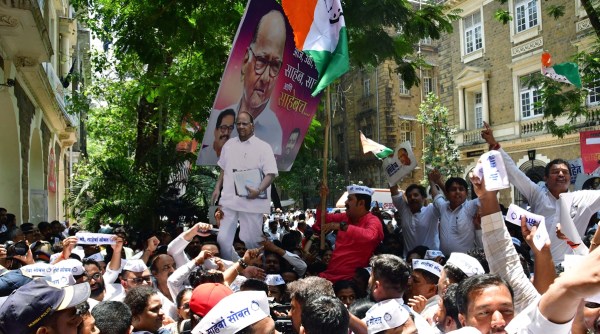 "There is no other alternative to Pawar saheb. The decision was anticipated. He is the most senior and nationally recognised and accepted leader and his leadership is necessary for the unity of opposition. All the Opposition parties of the country want him to remain in his post," Raut had said.
The ruling side, however, called it a "masterstroke" by Pawar to deal with the "unrest in the NCP" .
"Sharad Pawar saheb has played his power game. Everyone knows that there is a rift inside the NCP. The masterstroke of Sharad Pawar saheb at this juncture was for that, which has shocked every cadre of his party and has also proved what position he holds in the party," Sanjay Shirsat, Shiv Sena spokesperson and MLA.
Deputy Chief Minister Devendra Fadnavis said that it is an "internal matter of NCP".
"It is the internal matter of NCP. The script and players enacting the roles both belong to NCP. As in any cinema we want to see the climax which is still awaited," said Fadnavis, who reached Maharshtra Friday evening after a two-day campaigning in Karnataka for assembly elections.
State Minister Deepak Kesarkar said that "no one can predict what game Pawar saheb is playing". "But what he has done today has strengthened his position in the party as well as in the politics of the state and country," he added.
The Sena (UBT), in an editorial in Saamna, on Thursday, had said that some NCP leaders who lamented most after Pawar resigned were on the verge of joining the BJP and Pawar's resignation has exposed them.