481" itemprop="articleBody">
Surrounded by framed handwritten lyrics by renowned Malayalam lyricists, it is easy to talk music in composer M Jayachandran's aesthetically designed office at his home in Thiruvananthapuram. With nine Kerala State Film awards for the best music director and one for the best singer (male) in his 28-year journey in Malayalam cinema, Jayachandran is certainly on song. A trained Carnatic singer and performer, Jayachandran's passion for music and his songs have been a gamechanger in Malayalam film music.
Currently working on the score of Otta, Resul Pookutty's maiden directorial film, Jaychandran's zest for music is as fresh as it was 28 years ago when the engineer-turned-musician made his debut as a composer in Chanda (1995).
Says Jayachandran, "I have composed for over 140 films in 28 years. That has been my biggest award. An award is a reminder to be more dedicated to my work."
His latest award is for his songs in Ayesha and the period film Pathonpatham Noottandu, films set in two different periods, geographical locations and with very different themes.
If Pathonpatham… is about the warrior Velayudha Panicker who lived in the 19th century in Travancore, Ayesha, set in West Asia, is about a deep bond between two women who did not even have a common language to communicate.
Agreeing that  it was a challenge to work on both the films at around the same time, Jayachandran says that for the period film, he had to understand the music of those times. "Malayalam language was more inclined towards Manipravalam (a mix of Sanskrit and Malayalam used during the medieval period in Kerala) then and the music may have been influenced a lot by Carnatic music. At the same time, I had to create something that a listener of today can enjoy."
For Ayesha, he tuned in to his interest in Arabic and world music. "We recorded in Istanbul; The Czech Symphony played a part for one of the compositions in the film and we also recorded in Dubai. The work  involved a lot of research in West Asian music. I worked for nearly a year on the music of Ayesha."
Versatile composer
According to him, versatility should be a music director's calling card. "Even in our nature, we find so many contradictions, so many versions of the same person. A versatile music composer's job is to do justice to all those shades of life."
His effort, he says, is to try and improve with every song. "I don't take much time to compose music in genres I am confident about. But to do that in areas that I am not confident about with the same ease is when I become versatile." One has to listen a lot, including world music, and be open to new ideas to be able to cater to directors and listeners, irrespective of age, place and language, he adds.
Jayachandran believes he wins an award each time he is able to meet a film director's expectations and brief for a song situation. "I believe in destiny. At the same time, it's a person's hard work, dedication and, most important, perseverance that helps him meet his destiny. Perseverance means one has crossed many hurdles and that one has fallen and then got up to start walking again."
Tuning in
Initially, he found it difficult to compose in spaces that were not his comfort zones.  For his first film, he was allotted a room in Jaya Auditorium in Kozhikode. "I would sit in that closed room, an alien space for me, not clear about what I was going to do. I took about 10 to 15 days to compose two songs. But now, I can compose a song even while travelling."
Jayachandran insists a composition is not made, it happens. "When a film director explains a song situation, I try to understand what he wants from me and I try to give him my version with my signature on it. I pray that the composition evokes in the director the feeling of 'this is what I want.' That is bliss for me. Awards come after that."
Asserting that the best artistic creations are born in moments of tranquillity, he adds that a composer's lived experiences, good and bad, will certainly inform and shape his music.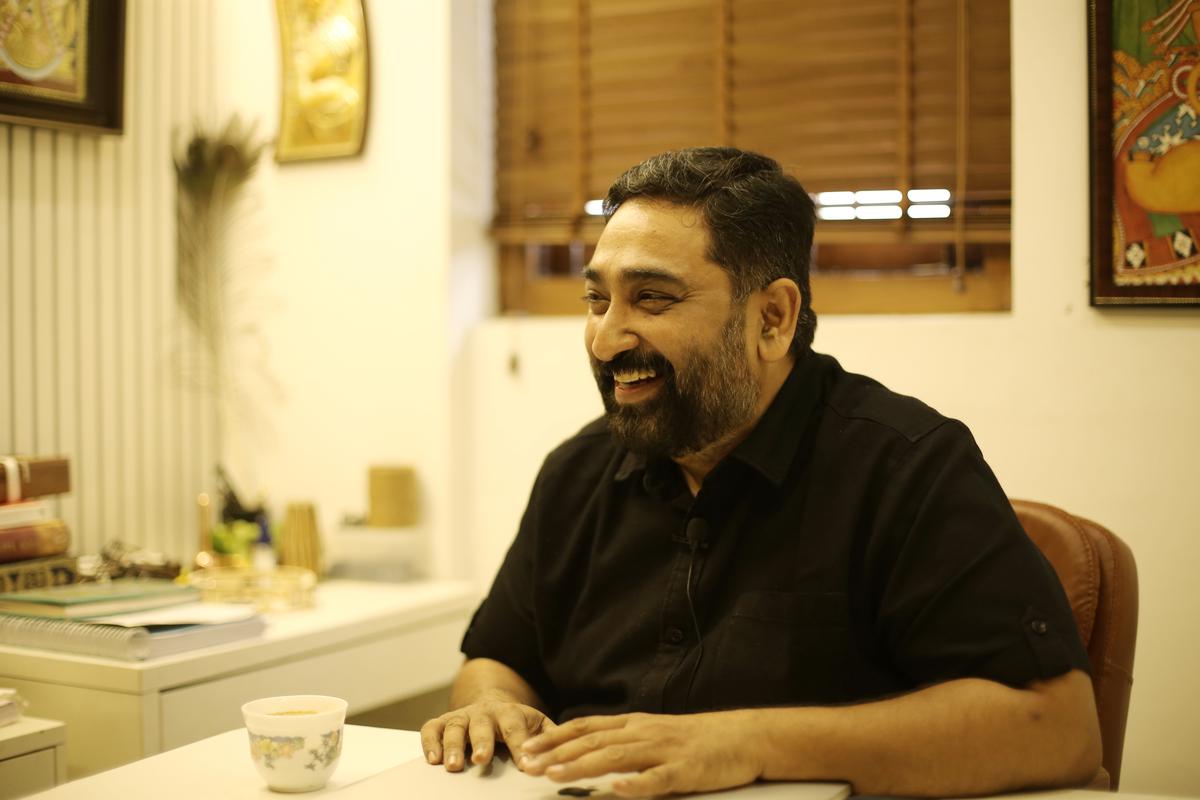 "For instance, while scoring the music for 'Amma mazha kaar…' in Madambi, I drew inspiration from my deep bond with my mother. I felt it was about my mother."
However, a composer cannot have the luxury of letting his mood dictate his work. He believes the trick is to leave behind the baggage of mundane worries at home while stepping out for work. "Sometimes, when you are feeling euphoric, you may have to compose for a melancholic scene in the film. While scoring the music, you might slip into that mood and there might be a hangover."
There were times when a background score, used with variations during different situations in a film, starts playing on a loop in his head. "Even three to four months later, it might keep reappearing in my mind. I pray for it to be erased from my mind. But then I realise even that is a blessing. It is only where there is that feeling, that one realises the value of a peaceful state of mind."
Striking a chord
The versatile music composer has the rare distinction of winning a State award for the best singer in a film that also won him the award for the best music director. Tracing the evolution of that song 'Melle…' in the film Nottam, he recalls that the protagonist is a talented Koodiayattam artiste who lives in his own world, leading his life at his own pace.
Veteran P Jayachandran had recorded the song. "Till then Nottam's director Sasi Parvaoor had been resonating with the track I had recorded in my voice. When he heard Jayaettan's song, he felt that my version was more emotionally in sync with the character and the situation. There was a confusion since Jayaettan being senior and a wonderful singer at that had left his stamp on the number. But then Sasi sir decided go along with my track."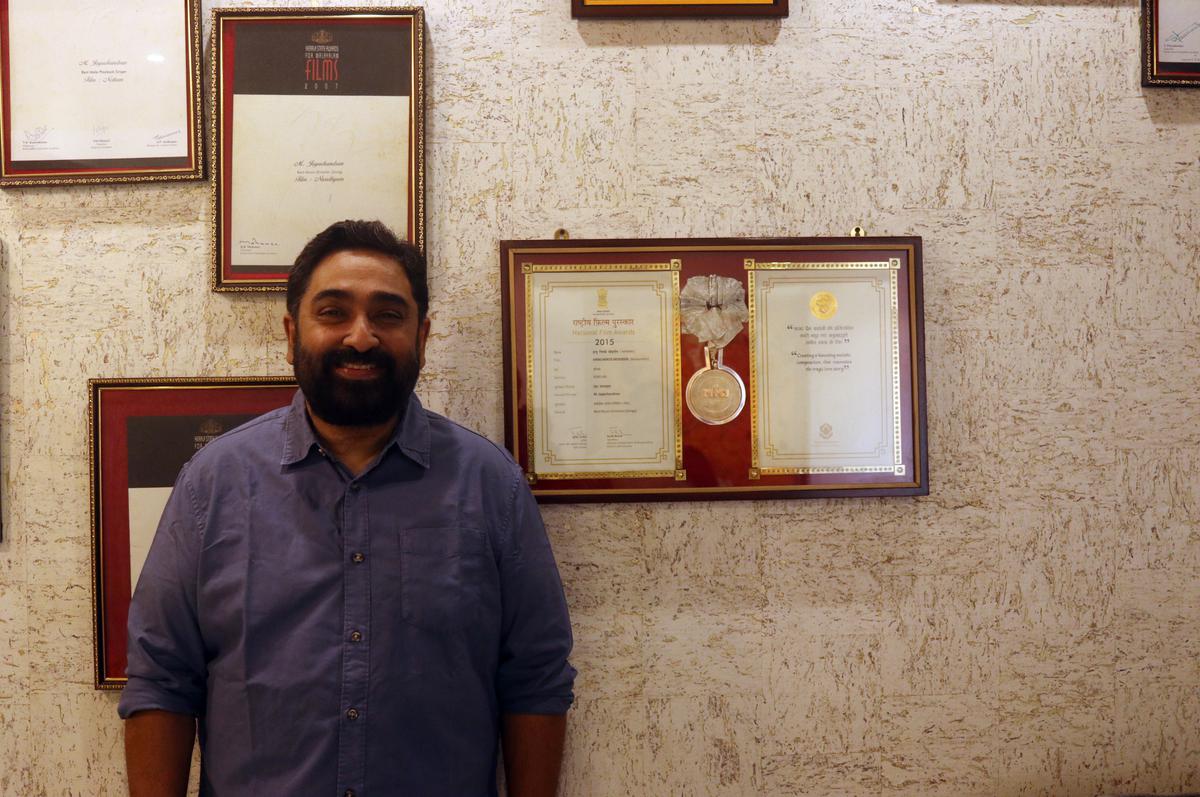 Nevertheless, he asserts that he has no regrets about not being a singer. A seasoned Carnatic vocalist, Jayachandran explains that Carnatic music, one of the oldest music traditions "is so pristine and beautiful that it has to be approached with respect, dedication,  constant practice and meditation."
"If you can't do that, it is best not to perform Carnatic concerts. So now, I try not to give Carnatic concerts although I get many invitations. Moreover, to make a mark in this field, one must develop a bani (an artist's distinctive style). That never happened in my case. Perhaps, it happens in my music compositions."
I listen to…
I never listen to my songs. I listen to Madan Mohan, RD Burman, SD Burman, MS Viswanthan-Ramamoorthy…there are several musicians I follow. I am a big fan of Ilaiyaraaja sir. He is someone who rewrote the sound of Indian music. Till he came on to the scene, we had never heard that kind of music. It is the same with AR Rahman as well, another pioneer.
In Malayalam, I listen to my guru Devarajan Master, Dakshinamoorthy Swami, Babuikka (MS Baburaj), K Raghavan Master, Ravindran Master, Johnson, MK Arjunan… the list is long. I am also an avid listener of Western classical music and orchestral score of greats such as John Williams, James Horner and Hans Zimmer."
He is reluctant to sing for movies as well, even when there are directors who try to persuade him for his emotional connect to the song that might be missing in the singer's voice. "I am very happy where I am. A singer has many limitations. Jayachandran, the singer, is not good!" he says with a smile.
A song for a singer
He firmly believes that each song has a singer since "a song is an entity in which the vocal is an important part. It is through the singer's voice that the import of the lyrics will be conveyed. Should it be mellow? Or aggressive, restrained or sung with an open throat?" '
He realised the importance of the song-singer connect while working on Kamal's Celluloid, set in the twenties of the last century. "I knew we did not need the kind of voice we hear now, cultured, accent-neutral.  This was a period when mics were not on the scene. Singers like Kitappa had to sing loudly to ensure that people in the last row were able to hear the song. I wanted a singer with an open mind, without any prejudices about how a song shoud be sung. That is how I came across Vaikom Vijayalakshmi."
"Of the talents I have seen, Viji is one of the best, worldwide. How many people know that? That is why I got her and Sreeram to sing the song. They elevated the song to new heights."
Food for thought
I was and am a gourmand. During the pandemic, I got to spend more time at home. I began to pay attention to my health. Now, I follow dietary restrictions. Having the right food at the right time and to be detached from certain kinds of food are important. I am fond of biryani and parathas. Now, I have biryani once in a month and parathas almost never. It is true that we are what we eat. Yesudas (KJ Yesudas) sir had mentioned that long ago. I did not grasp the significance of it then. But now, I understand what he meant.
Ten years from now, where does Jayachandran see himself?  
"I would like to be a guiding light for young composers, musicians. Of the several songs I have made, more than 50 remain, which I hope will stand the test of time. But I want to make completely new songs. I would like to get song situations that will help me create these songs I have in mind."
Considering his success in the Malayalam film music industry, why has he not worked in other language films? "I would have loved to work in Hindi, Tamil, Telugu and Kannada. I am also confident that I would be able to bring in my own signatured music. However, the fact is that I have not been given a chance. Perhaps it might happen in the future if there is someone who feels that my music will sync with their cinema."