Written by Ceylan Yeginsu, Rebecca R. Ruiz and Nimet Kirac
The building began convulsing at 4.17 am. Firat Yayla was awake in bed, scrolling through videos on his phone. His mother was asleep down the hall.
The region along Turkey's border with Syria was known for earthquakes, but this apartment complex was new, built to withstand disaster. It was called Guclu Bahce, or Mighty Garden. Yayla's own cousin had helped build it. He and his business partner had boasted that the complex could withstand even the most powerful tremor.
So, as the earth heaved for more than a minute, Yayla, 21, and his 62-year-old mother, Sohret Guclu, a retired schoolteacher, remained inside.
At that very moment, though, Yayla's cousin, the developer, was leaping for safety from a second-story balcony.
What Yayla and his mother had not known was that the system to ensure that buildings were safely constructed to code had been tainted by money and politics. That system prioritised speed over rules and technical expertise.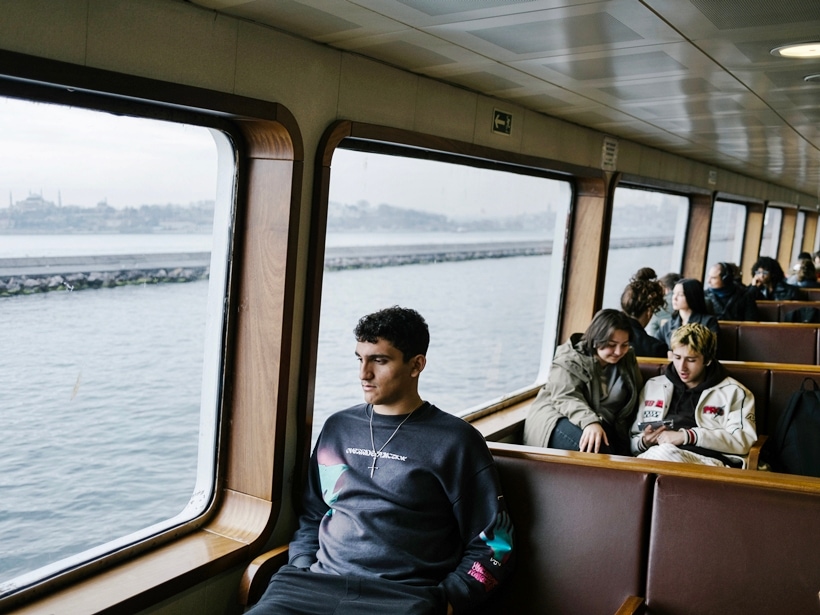 Firat Yayla, 21, who was rescued without serious injuries from the ruins of the collapsed Guclu Bahce complex in Antakya, Turkey, in Istanbul, April 6, 2023. (Emin Ozmen/The New York Times)

A New York Times investigation found that a developer won zoning approval for the project after donating more than $200,000 to a local soccer club, where the mayor is an honorary president. Then, when residents raised alarms that the blueprints did not match what had been built, they received no satisfying reply from the local government. The building inspector said that, even after the project had failed its inspection, the developers used political influence to get the doors open.

The apartment complex, in the southern Turkish city of Antakya, was a concrete and stone representation of a patronage system that has flourished under President Recep Tayyip Erdogan as he has propelled a construction boom across Turkey for the past two decades.

Undeterred by warnings that the breakneck development lacked sufficient engineering oversight, officials in the capital, Ankara, gave local politicians more power to issue construction licenses for large projects without scrutiny from independent professionals.

Basic suggestions never took off — that civil engineers should have to pass a certification exam, for instance.

That building spree turned middle-class landowners like the Guclus, for whom the Guclu Bahce complex was named, into developers and landlords. Erdogan, who will stand for reelection on May 14, used construction as a vessel for economic growth and a symbol of Turkey's progress. Local politicians from all parties benefited from the jobs, housing and off-the-books payments that commonly flowed from it all.

Erdogan's office referred questions to the environmental ministry, which did not respond to requests for comment.

The Feb. 6 earthquake revealed the shaky foundation on which so much growth was built. More than 50,000 people died as buildings toppled, crumbled or pancaked. Guclu Bahce, the mighty earthquake-proof complex, was among them. An estimated 65 people died there.

"So many died because they were told that the safest place was inside, and they should not try to leave during an earthquake," said Fatma Oguz, whose sister died in the collapse.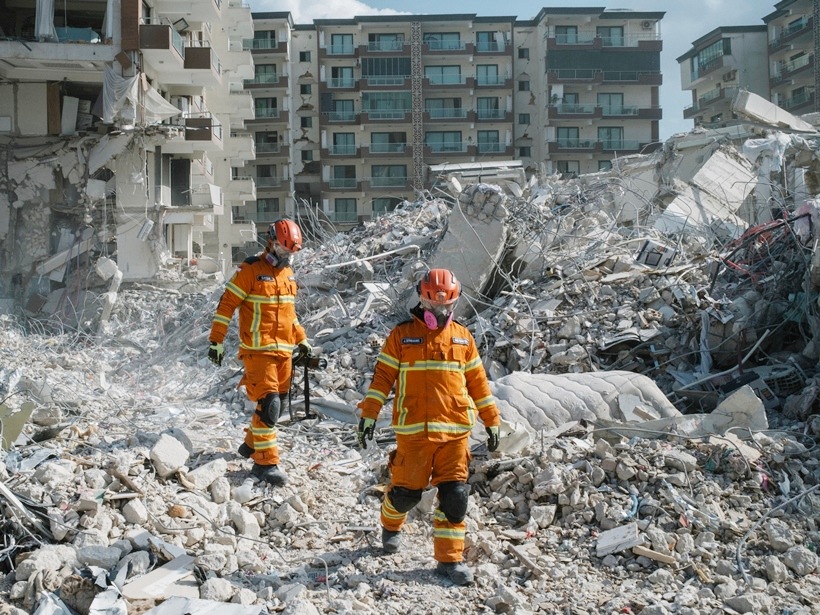 Rescue workers at the site of the collapsed Guclu Bahce complex in Antakya, Turkey, Feb. 19, 2023. (Emin Ozmen/The New York Times)
For the Guclu family, several of whom lived in the building, the collapse created a fatal rift. Survivors have turned on each other amid a lawsuit, a criminal investigation and a bitter search for answers:
Were the buildings doomed to fall by nature of a powerful earthquake? Or did someone cut corners? Who can be held accountable in a system in which blueprints cannot be trusted and nobody agrees on whether the building passed inspection? The inspector says somebody forged his signature. It is unclear if the final project was up to code, and the developers cannot agree on who actually built anything.
As the building shook in February, Yayla called out to his mother to stay in her room and get on the floor next to her bed. He did the same. They would ride this out safely.
Then came a fierce thud, and the columns holding up the bedroom ceiling snapped.
'Money from our friends'
Family members say the land, covered in fig trees, had been theirs for three generations.
By 2015, buildings were popping up all around, a testament to a Turkish economy that had been growing about 7% a year.
Mehmet Guclu, a young developer with a civil engineering degree, approached his relatives with a plan. Look around, he told them. Somebody's going to develop this parcel. Better to keep it in the family, to be landlords, to make money.
"He convinced us that he'd build the most magnificent project in our family name," said Yusuf Guclu, another cousin who lived in the complex. He said that Mehmet had promised to protect against the earthquakes everyone in the region knew to expect.
Mehmet's career had taken off quickly, in part because of Turkey's low barriers to entry for civil engineering graduates. Unlike in the United States and United Kingdom, graduates in Turkey do not need to pass certification exams or complete on-the-job training to become an engineer. Architectural trade groups have called for such requirements for years.
"University educates you. It doesn't train you," said Mustafa Erdik, an earthquake engineering professor at Bogazici University in Istanbul. "We have to bring in professional engineering."
Getting a project started often hinges on unwritten rules that can be as important as technical expertise. In this part of southern Turkey, for example, contractors have known for years that a donation to the local soccer club can move a project along, said Hikmet Cincin, the former head of the soccer club. Antakya's mayor at the time, Lutfu Savas, serves as the club's honorary president.
After discussions with that mayor, Mehmet Guclu gave the club more than half a million lira, more than $200,000 at the time, according to a person involved in the construction process who spoke on condition of anonymity because of an ongoing investigation.
Savas denied profiting from Guclu Bahce's construction and said the donation had not been tied to the project. "If we ask for money from our friends," he said of gifts to the soccer club, "it's for the benefit of everyone."
Savas says he has little memory of the particulars. What is clear is that the project rolled along in the following years, and the foundation was laid in summer 2017.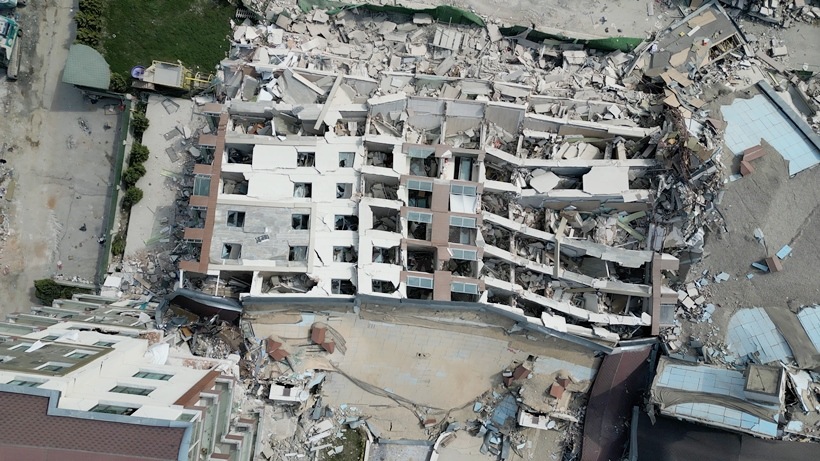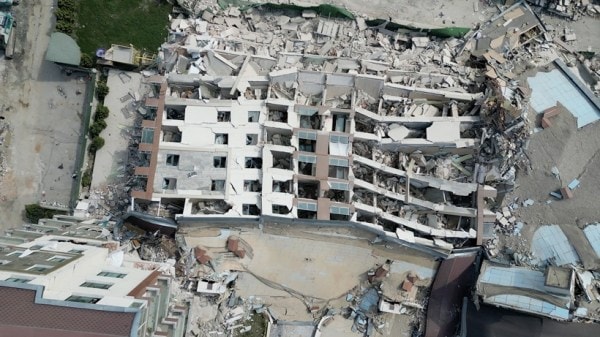 The collapsed Guclu Bahce complex in Antakya, Turkey, March 3, 2023. (Sergey Ponomarev/The New York Times)
As Mehmet Guclu's new project moved forward, the only limitations seemed to be financial. Soon after the foundation was poured, his money dried up. He turned to a prominent developer, Servet Altas, to help see it through.
Altas became the public face of the project. His initials, in red and blue, would later adorn the low wall ringing the complex.
Sales pitch
Sohret Guclu had been eager for a steady income to supplement her modest state pension. So she swapped her land deeds for ownership of six apartments and a retail storefront.
She had raised two boys in an old, crumbling apartment building. Her new home was to be a four-bedroom unit with an airy living room and kitchen — one of the largest in the complex.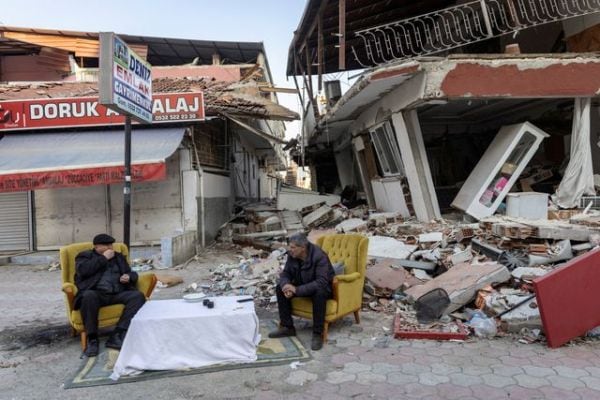 Men sit and talk in front of destroyed properties in the aftermath of the deadly earthquake in Antakya, Hatay province, Turkey, February 20, 2023. (Reuters)
Guclu Bahce's apartments were among the region's most expensive, costing as much as $160,000. But Altas promised upscale amenities and unparalleled safety, former residents said.
"If there were an earthquake right now, I would run inside," Altas repeatedly said, recalled Ertugrul Sahbaz, a building manager for the complex.
Few have argued that these developers knowingly put people in deadly buildings. Guclu's own family lived there, after all, as did Altas' son. Turkey deemed Guclu a qualified engineer, and the local government — measured by the number of officials at the grand opening — supported the project.
But the chest-thumping and fanfare were premature. The buildings failed a final inspection, according to court testimony. The nature of the violations is murky, but Ismail Ozturk, a building inspector, testified this year that his company had raised concerns with the local authorities.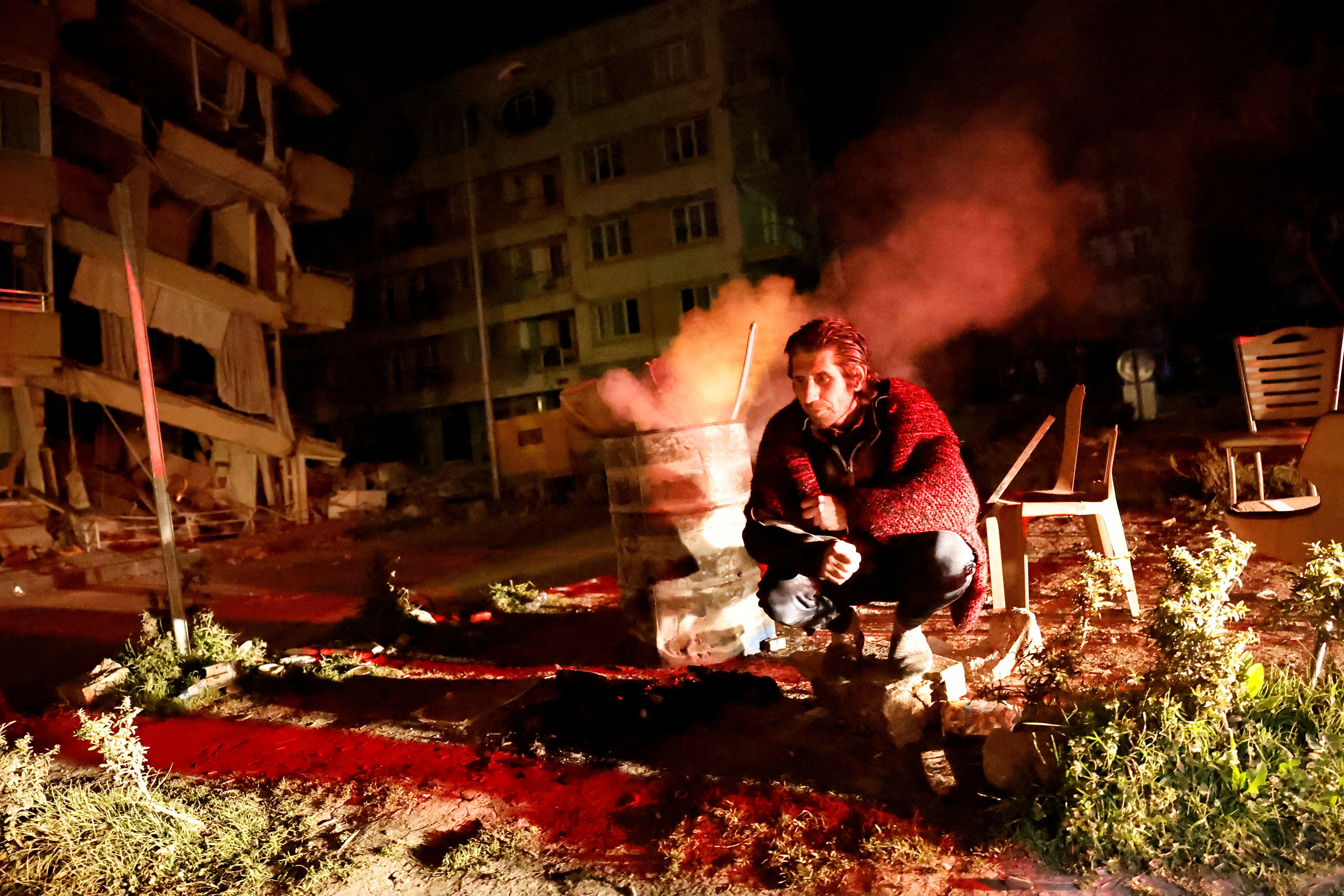 A man sits outside after an earthquake in Antakya in Hatay province, Turkey, February 20, 2023. (Reuters)
Ozturk testified that the contractors had leveraged "close connections" in the city government to overcome the failed inspection. The city mayor at the time, Ismail Kimyeci, who belongs to Erdogan's party, denied any special treatment. He said the government's final approval had been a formality. "The inspection firm plays the most important role here," Kimyeci said.
Ozturk's signature does appear on a certification document. Through his lawyer, he said it had been forged.
In a functioning system, there would be no ambiguity about who had approved a project. But Turkey's system is built on ambiguity. The Erdogan government has, for decades, weakened independent, expert construction oversight and fought proposals to toughen standards.
Turkey's chamber of civil engineers, for example, has argued for years that experienced engineers are stretched too thin to adequately supervise construction projects. The group has called for every project to get a dedicated engineer. That idea, which could have slowed down construction, went nowhere. The Erdogan government sued the group in 2015, blocking it from issuing its own, stricter certifications for engineers.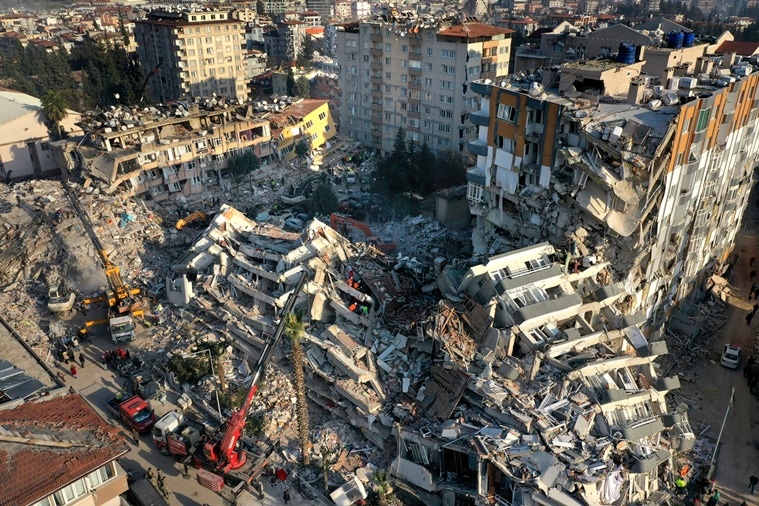 Rescue teams search for people as cranes remove debris from destroyed buildings in Antakya, southeastern Turkey, Feb. 10, 2023. (AP Photo)
Lawmakers also privatised the building inspection process, sidelining Turkey's engineering and architectural union. And while the government in 2019 eliminated a rule allowing contractors to pick their inspectors, mayors still hold power to push past potential issues.
Guclu Bahce's opening was delayed. Discrepancies existed between the blueprints and what was built, Ozturk said in testimony after the earthquake. Some former residents, too, said that they had picked up on such differences and sent a letter to the city raising concerns.
Whether this discrepancy played any role in Guclu Bahce's collapse and whether the inspection was adequate are among many questions being asked in the government's criminal investigation and a family lawsuit.
But the city ultimately awarded occupancy permits and residents finally moved into their apartments in 2021. Guclu Bahce sprang to life, with a health club, a home goods store and a chicken shop.
For almost two years, nobody looked back or gave further thought to the construction process.
Cries in the darkness
Lying on the floor next to his bed, Firat Yayla thought immediately of his cousin's assurances about the building's sturdiness. His confidence lasted less than a minute, though, until he heard the sound of crumbling concrete.
The wall next to him was caving in.
As the 7.8-magnitude earthquake continued for about 90 seconds, the building fell sideways. Steel bars knifed out from the concrete, and he began slipping toward them.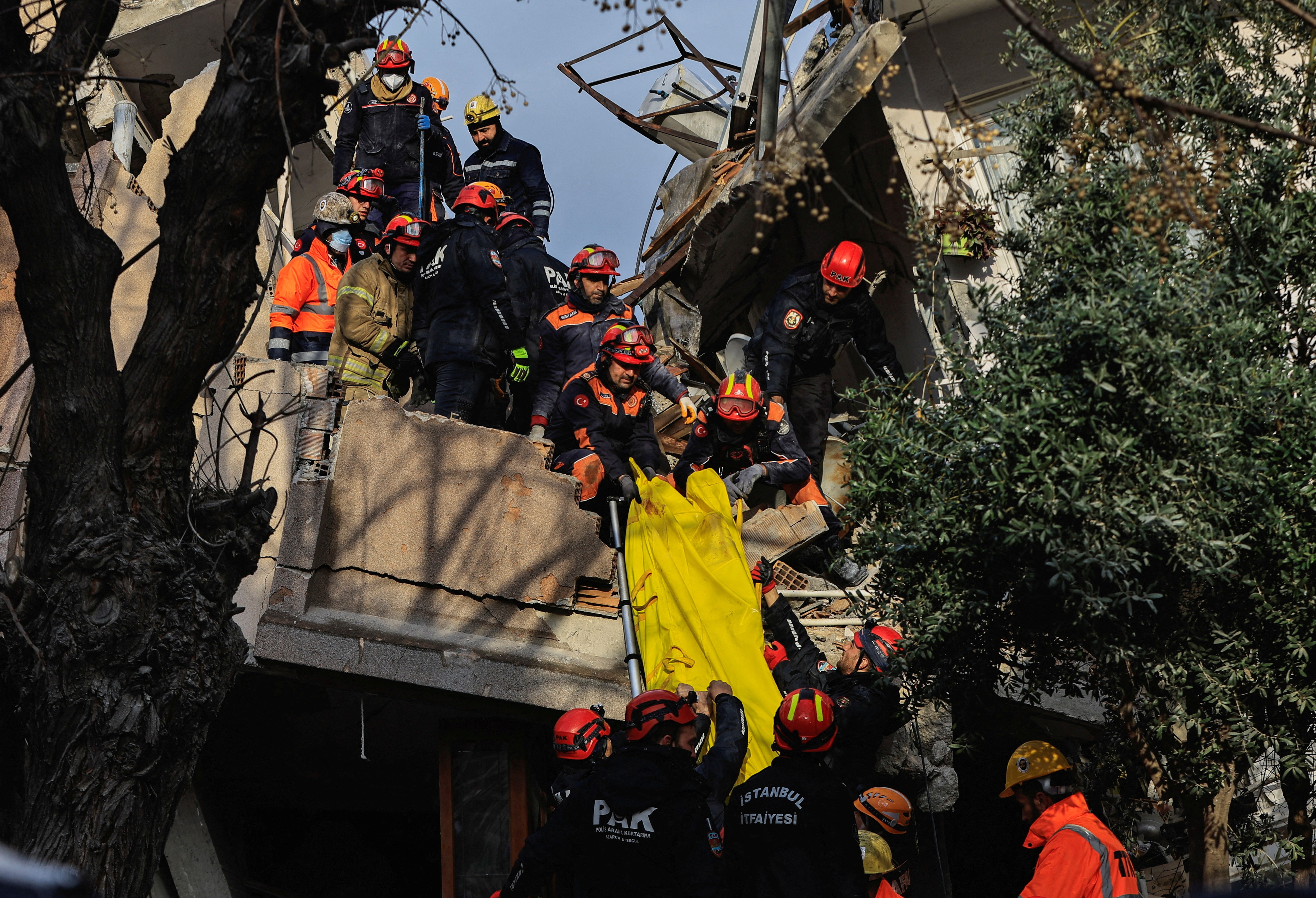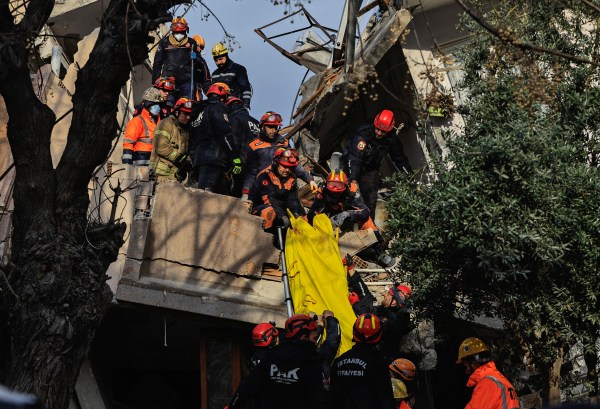 Rescuers carry a dead body, in the aftermath of the latest earthquake in Hatay province, Turkey February 21, 2023. (Reuters)
The lights went out, and Yayla was sure he was going to die.
A resident helped free Yayla from the rubble. He survived without serious injuries. Mehmet Guclu survived his jump from the balcony with little more than an injured finger.
Sohret Guclu died, along with more than five dozen other residents.
Members of the Guclu family have sued the contractors and the inspection company, alleging construction flaws. Among those they accuse of wrongdoing is Mehmet Guclu, the cousin on whom they had pinned so many hopes.
Sohret's brother, Yusuf Guclu, said family members were angry at a system of back-scratching and favour-trading that had papered over potential problems.
That system had worked in his family's favour. The Guclus had lived the Turkish dream, converting their land into a cash cow thanks to a relative's expertise and connections. Now, his sister was dead and his family was accepting donated clothing.
"We've lost everything," he said.
Altas was arrested and jailed pending the outcome of the investigation. He has not been charged with a crime. Through his lawyer, he said he had only bankrolled the project.
Ozturk, the inspector, has also been arrested but not charged. He denies signing off on the project.
And, in a meeting with the Times, Mehmet Guclu appeared shellshocked. He said he would consider speaking publicly about the building, the lawsuit and his family.
But with a warrant out for his arrest, Guclu soon stopped returning messages.
The last time he was in contact, he was working on a government construction project — part of Erdogan's well-publicised plan to rebuild the region swiftly.