101st over: New Zealand 252-6 (Mitchell 83 Bracewell 5) It's raining in Wakefield, but none a few miles further north, thankfully. Broad bowls a disciplined length to Mitchell, who has no choice but to play the maiden.
John Starbuck says, "Singularism 'Knott's Forest' occurred earlier this year in the first episode of 'Sherwood' (BBC1), when Alan Armstrong's character used it to refer to Trevor Francis, who was about him. I didn't know anything." Yes, it was a jarring note in an otherwise compelling drama. But why? was Armstrong's character killed?
100th over: New Zealand 252-6 (Mitchell 83 Bracewell 5) England can prevent Bracewell from getting set too high here – a wild swish and a miss out-off give some impetus to Potts, though the batsman remains watchful afterward. Potts continues to offer decent variety, however, snoozing and swinging away in a reasonable amount of time – he stops a certain four when a crisp straight drive spreads across the deck to bite. His third maiden of the morning.
99th over: New Zealand 252-6 (Mitchell 83 Bracewell 5) Broad replaced Overton at Kirkstall Lane, and as if responding to a celebratory King's start, Drs was back in gear again. His spell begins with a leg-bye. Bracewell is off the mark with a handsome coaching-manual on-drive for four, before another drop – A fine spear-in delivery from the left-hander, which is given to Bairstow at second slip, but it fails. Was he gone too late?
More from the views of Gary Naylor: "Regardless of performance on the field, the man (or woman) of the match is the one who determines the ticket pricing structure." Yep, who knew there were other ways than just pricing a cricket field in the interests of champagne-corks-on-the-outfield-popping Dellards?
98th over: New Zealand 246-6 (Mitchell 82 Bracewell 0) Nasser Hussain takes over the commentary, and immediately – and rightly so – apologizes to Atherton's "Knot's Forest" howler, and all is well with the world again. Potts tests Bracewell from an angle that leaves the left-hander clever. Potts' length is asking more questions at the moment than Overton's short ones. Given that, I'm not sure England need two outs in the deep at legside. Another nice girl though.
97th over: New Zealand 246-6 (Mitchell 82 Bracewell 0) Bracewell is on the front foot for a rare pitched-up ball from Overton, but a beautiful cover drive goes straight to mid-off. A bouncer, and a no-ball, arrives. Broad wants to take another look at the ball, continuing a dangerous theme from this match, but the umpire now sees it wrong and Overton continues, and the new batsman gets some more spear-in short stuff on his toes. with around the wicket. Completes a leg-bye over.
"I wonder if, in the umpires' subconscious, they take into account the fact that yesterday a worthy appeal for LBW was not given?" Considers William Hargreaves. "Could it be a little easier to judge LBW?" I was surprised at that as well, given that it was the same bowler who was on the same end.
96th over: New Zealand 244-6 (Mitchell 82 Bracewell 0) DRS broken, fast in England, like Potts Trap Blundell Slightly slanted in front with one. It could have been the missing leg but in real time. Thinking you will give it This match continues to generate talking-point dismissals, but in the old days it worked like this, kids. Potts round the wicket on left hand Bracewell, who plays an over.
Wicket! Blundell lbw b Potts 55, New Zealand 243-6
The DRS system needs to be turned off and on again, causing a slight delay in the start of the pots' over. As of now, we are DRS-free. And wouldn't you know it, Blundell is stuck in front of Michelle just like yesterday. The umpire's finger goes up – and the batsman can't do anything about it. Potts finally has his worthy skull.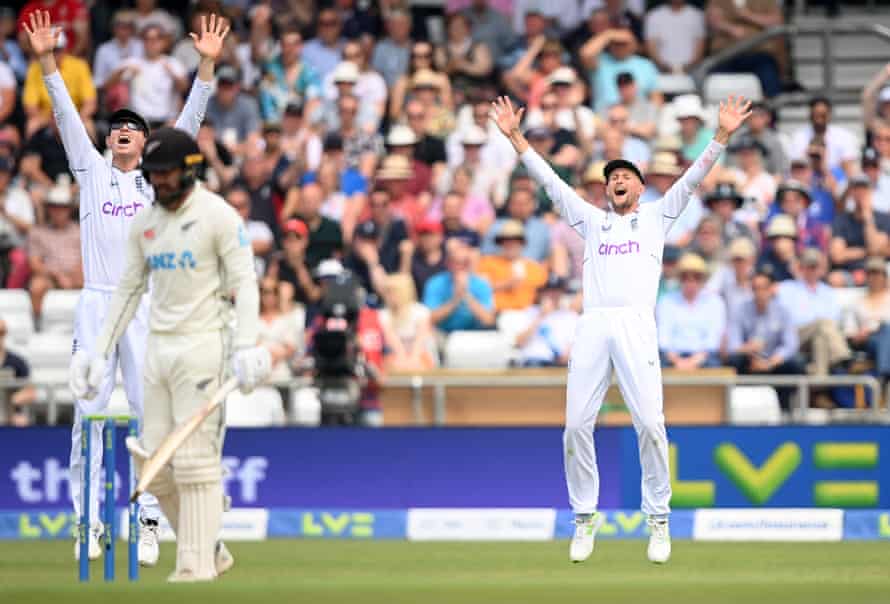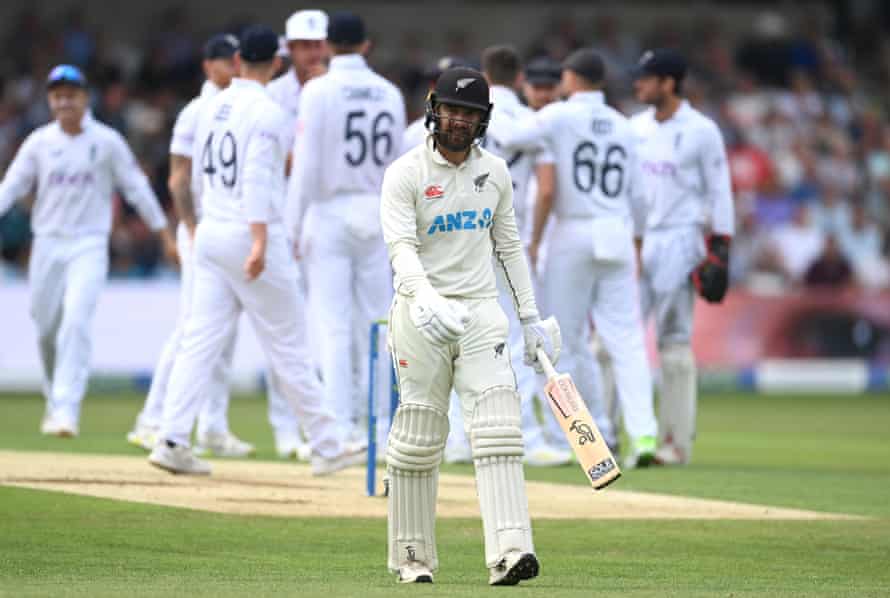 95th over: New Zealand 243-5 (Mitchell 82 Blundell 55) More good going on from the pair, as Blundell catches a quick dubbed single from Overton, who then goes down legside and a deflection from Mitchell's pads picks up the momentum for four leg-byes to the ropes. . Mike Atherton on Sky.com made mistakes by describing Stuart Broad's football team as "Knott's Forest". The pedantic sub-editor in me can't let this sort of thing go unnoticed.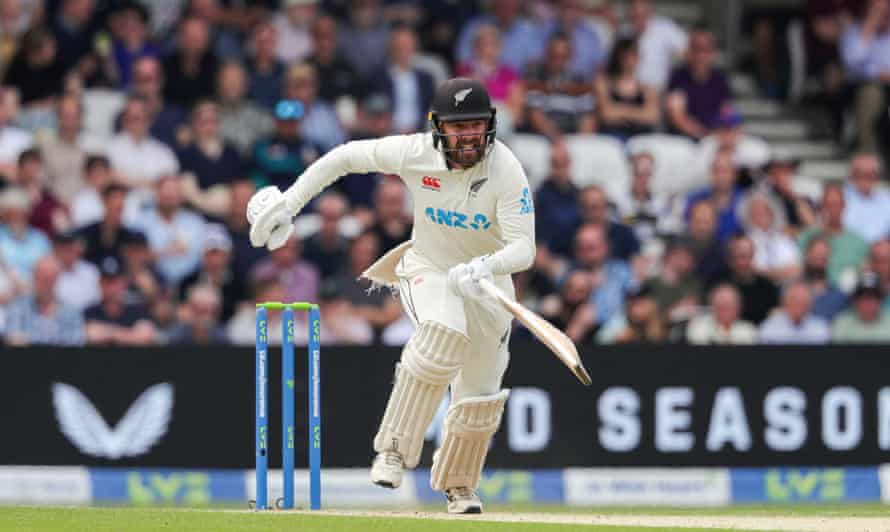 94th over: New Zealand 238-5 (Mitchell 82 Blundell 54) An over-disciplined line and length fare from Potts, and Mitchell is forced to be on the alert. First girl of the day.
Gary Naylor said, "I have a bad feeling that 300 would be great." "England will go hard on the ball and take the edges. You can't indefinitely defer to the gods at bat before getting your revenge. "Yes, although it looks like a good surface to bat on, there is a lot more for the bowlers and indeed the fielders.
93rd over: New Zealand 238-5 (Mitchell 82 Blundell 54) Overton continues to find pace and bounce, forcing Blundell to accidentally stretch his body, but when the bowler repeats the ball, Blundell gets right over him and pulls it ahead of Bairstow diving for four. . Bairstow is in good luck when it comes to preventing a repeat of the shot on the next ball.
92nd over: New Zealand 234-5 (Mitchell 82 Blundell 50) Potts rugby starts from the stand end. He maintains the civilized, agile and probing length of yesterday but fate continues to elude him, as Michelle is dropped, when Fox dives on the route at first slip and tries to grapple the edge and attach it to the deck. was the route that had to be taken all day
John Starbuck writes, "We all love a good laugh, but does no other sport celebrate applause like cricket?" Basketloads of "Gaffes and Goals of Myself" videos show that football has a decent run as well.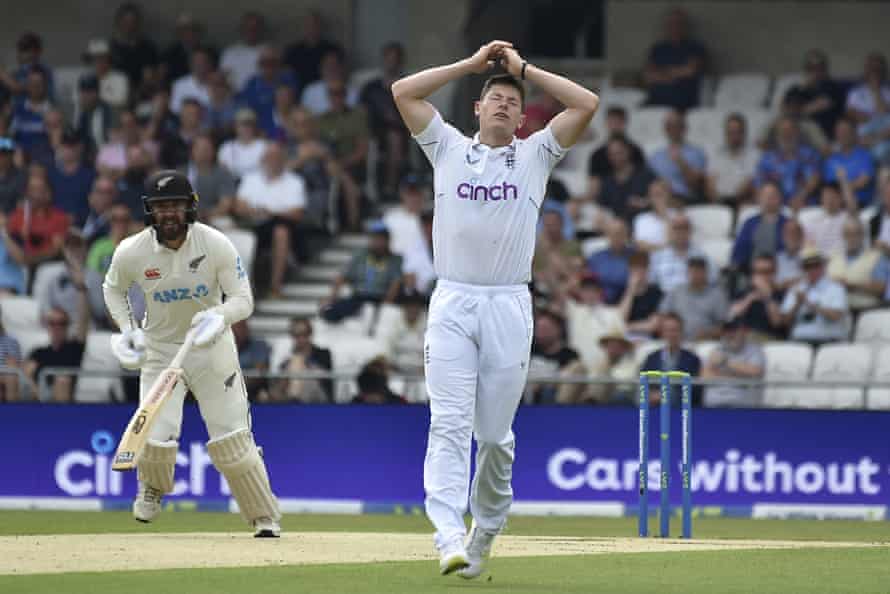 91st over: New Zealand 232-5 (Mitchell 80 Blundell 50) Jamie Overton gets his first use of a 10 over old ball from Kirkstall Lane End. A makeshift field with two slips but two men deep out is set for him. Mitchell sweeps it away for a second ball to get NZ up and running for the day. Blundell is then squared by one who spits brutally from the surface and hits him near the shoulder – that's what Overton delivers. A hasty single after the next ball. And that's what Michelle does to keep things going. 1st boundary of the day – an edge from the second slip that moves to the ropes – then Blundell's 50. bringsCompleted another half-century.
Ben Stokes out to England, Blundell and Mitchell follow them. The Headingley looks splendidly stuffed.
a note of encouragement For New Zealand, and foreshadowing for England:
You are here For you Overseas TMS Link – Thanks to Raiza Ballim for the promptness.
Speaking of "weird dismissal," 1980s sports guru Steve Pye writes: "I've always had a soft spot Wayne Phillips and the 1985 Ashes Incident, Maybe helps that I'm english. ,
Yes, I remember that – a huge moment. Australia was digging in and recovering last evening's Richard Ellison-inspired collapse, then that cynical dismissal reopened it. An English victory mastermind by players that then faded to international prominence – Alison and Tim Robinson.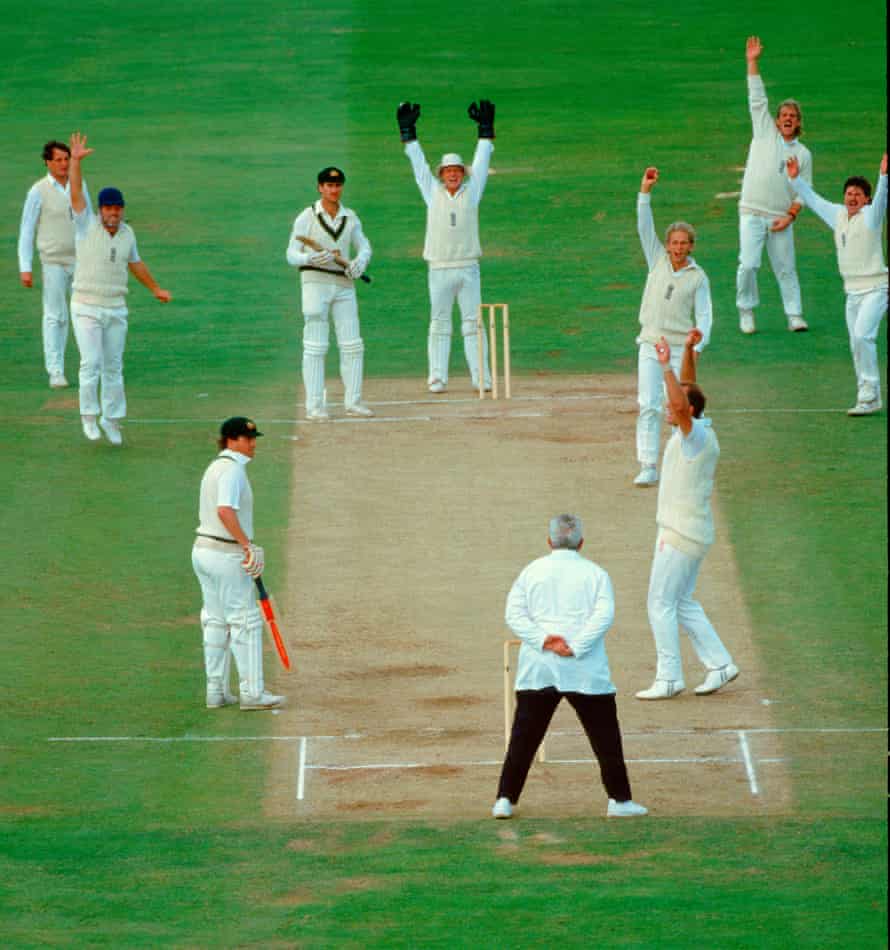 accurate to forecasts, It's cloudy this morning at LS6. The ball is still pretty new. England will have chances.
It's not often that a spinner takes center-stage On the first day at Headingley, but at this point things turn around Jack Leach, and – after bowling well with a tough ball – he took the most talked-about wicket of the series. And here's some pre-play reading about it from our Jonathan Lew:
However those who have played this game at a higher, elementary level know that things like this happen in this great game of ours:
Who would have thought, at the start of this series, that New Zealand's two most volatile batsmen will be Daryl Mitchell and Tom Blundell? But for the third Test in a row, here we are, with the pair adding to their restorative partnership with another one at Headingley at Lord's and Trent Bridge, which meant a day that firmly ended for England.
Of course, if England hadn't been eagerly timid to review a rejected Stonewall LBW shout-out against Mitchell on eight, I could have filled this prologue with more pawns for a red-ball reset. We can certainly get to do that later – this Test is beautifully prepared and a few wickets in the first hour will put the hosts back on a surface that is a pleasure to bat on.
However, the weather could turn a little more Headingley-ish in the next few days, which could put the threat and put a spring in the steps of the bowlers. Whatever it is, you'll want to keep following. This is Leeds, where the stuff happens, as we have already seen with the outlandish dismissal of Henry Nicholls yesterday.
Bring it all Play starts at 11am BST.