4th over: New Zealand 10-1 (Young 6, Williamson 4) Potts drops short and Young cut for four with greatest ease. "Such a fast outfield, Headingley," says Nasser Hussain. After that, it's all the points with a fine take from Ben Fox, the second half of his morning.
"Eddingley, eh?" Jeremy Boyce says "My mom's parents worked in the lounge cinema and lived around the corner, my parents were married in the church next to the ground (St. Mark's?), there was a test match (1953, Australian?) And the first question my dad asked the driver when he got back in the taxi was, 'What's the latest score?'. I'm not sure my mother ever forgave him. Any road oops, it's good to have proper cricket back where he is. "
3rd over: New Zealand 6-1 (Young 2, Williamson 4) England have a clever plan for Kane Williamson: to strangle him from the leg side. And it works almost on the first ball! Stokes posts a leg slip, Broad goes tighter than usual, Williamson takes the bait, and the ball flies between Ben Fox and that leg slip, Ollie Pope. Broad then comes back to type, bowling at fifth stump, and Williamson watches the ball go to the end of the over, when Broad creates a beauty, angling, swinging and missing the edge. Huh. Nice competition!
2nd over: New Zealand 2-1 (Young 2, Williamson 0) Matthew Potts gets promotion in Jimmy Anderson's absence. On debut at Lord's, he kept making things in his first over, but this time it's only a clip for Will Young's two to take New Zealand off the mark.
A replay shows that Joe Root charged for a hug to Jack Leach when he took the catch. "Did Leach have a clever plan?" Surprise one of the commenters. If so, it was familiar enough: bowl at Chanel and wait for Nick.
1st over: New Zealand 0-1 (Young 0, Williamson 0) And here comes a very out-of-form NZ captain. England is taking Test cricket easy for once.
Wicket! Latham c Root b Broad 0 (NZ 0-1)
First Blood for Broad! After a few drops, Latham sends a classic nick at first slip. Are you in David Warner disguise?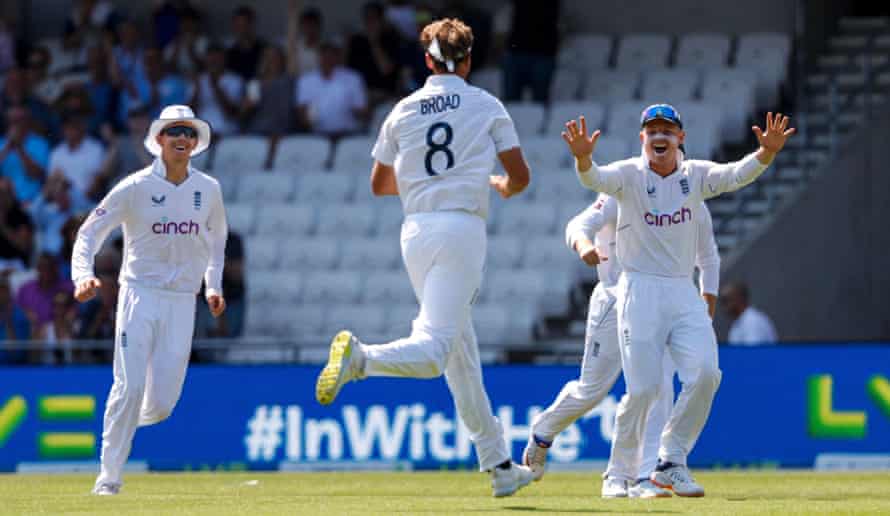 national anthem is sung And the ball is in the hands of a man in a bandana: Stuart Broad.
England are not on trial for once today, but Headingley is. Yorkshire CCC has suffered a setback, as Sky shows with a quick guide to the racism scandal. "Cricket needs better leadership," says Mike Atherton. "From both Yorkshire and the ECB." Amen to that.
Yorkshire's love for cricket is not in doubt. But it is a shame that England, with Jofra Archer injured and Moeen Ali still theoretically unavailable, fall short of the multicultural XI. On this front, like few others, Eoin Morgan's white-ball team is at the fore.
"With the Ashes only 13 months away," Pete Salmon says, "Surely it's time to start tinkering with the team so that the best possible XI finishes in July 2023?" Ha. He overcame tinkering last year, but some objections to tinkering are based on an illusion – that there is a clear first XI we can all agree on.
"How's the weather looking?" Tintonfish asks on Twitter. "Play all day?" Yes – According to the Meteorological Department, it will be cloudy and sunny. But it has been raining for the other four days, with tomorrow looking particularly dicey.
England Team: As Advertised
Jimmy Anderson walks out with a pointy ankle, though he may have been rested anyway. And the Overton window opens – for Jamie, making his England debut, instead of his twin brother Craig, who came into the world on the Test scene three minutes earlier and three years earlier. As bowlers, they are far from identical: there are Craig Line and length, Jamie Fire and Brimstone. Craig has just handed Jamie his first Test cap, becoming the first twin brother to perform happy duty, and possibly even the first to do so for someone who has just given him a bouncer.
England 1 Jack Crowley, 2 Alex Lees, 3 Ollie Pope, 4 Joe Root, 5 Jonny Bairstow, 6 Ben Stokes (c), 7 Ben Fox (wk), 8 Jamie Overton, 9 Stuart Broad, 10 Matthew Potts, 11 Jack Leach.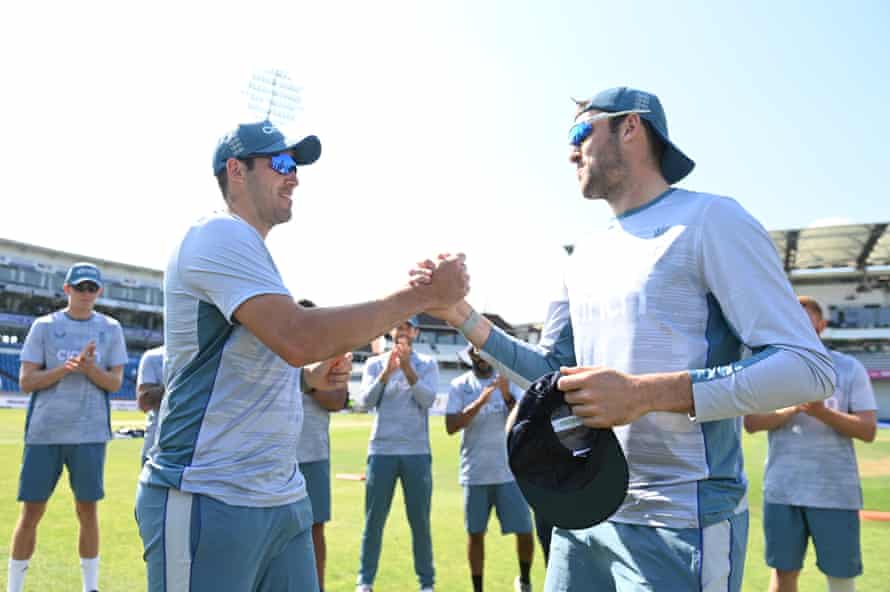 NZ team: Wagner finally gets a game
Williamson's return, NZ batted deep, and there is an overdue recall for their unsung hero Neil Wagner.
New Zealand 1 Tom Latham, 2 Will Young, 3 Kane Williamson (c), 4 Devon Conway, 5 Henry Nicholls, 6 Daryl Mitchell, 7 Tom Blundell (wk), 8 Michael Bracewell, 9 Tim Southee, 10 Neil Wagner, 11 Trent Bolt.
Toss: New Zealand win and bat
Kane Williamson is back and he already has one thing, possibly two. He wins the toss and likes the look of the pitch, which has already been described by one commentator as "one winged".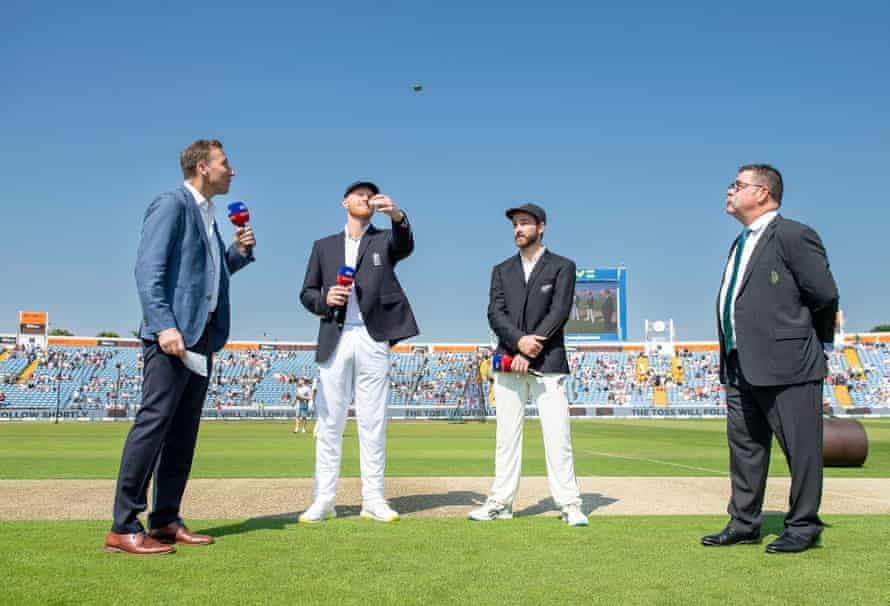 Preface: Time to gear up again
Good morning everyone and welcome to another day of international cricket. If it is Thursday, it should be a Test match. Nearly 19 hours after one England XI sealed the one-day series in the Netherlands, another will take to the field at Headingley to see if they too can make a clean sweep. Or should it be a clean reverse sweep, now that the Test team has become as dominant as its white-ball brethren.
It's time to gear up again and enjoy the ride. England will be even tougher this time, says Ben Stokes, a plan that could involve rewriting the laws of physics. New Zealand, who had won the World Test Championship only a year earlier, are due for a win, and they scored 550 runs after batting. But England have our old friend Mo Mantum, plus a new-manager boom from Brendon McCullum, the super-enabler whose fingerprints can still be found on New Zealand's spirited style of play.
The game is at Headingley, where it's easy to see a set of seamers keeping the ball – or chipping in when the sun comes out. The fastest among them would be Jamie Overton, who made his Test debut at the expense of his twin, Craig. As always there is no dearth of sub-plots, so keep this window open. The game starts at 11 a.m. UK time, New Zealand at 10 p.m., and I'll be back with news of the toss 25 minutes before that.