" itemprop="articleBody">
Almost every evening Soumya VN comes across a group of men near her home at Mangattukadavu, whiling away their time, gossiping and gawking at passers-by. That was the inspiration for her acrylic work, 'Gossips', on display at the College of Fine Arts' Degree Show 2023.
"I find that gossip is a term unreasonably associated with women and wanted to break that notion," says the young artist, who has evocatively captured the details in their attire, body language, expression and setting. Another painting captures a group of women conversing. "Their conversations are often about their families, price hike, society etc. My reference was photographs I had clicked of these roadside vendors outside the Connemara market near our college, selling various produce," says Soumya.
This year's Degree Show has works by 11 of the 14 students of the outgoing batch of the Master of Fine Arts course.
To a great extent, the paintings in different media are narratives of the students' personal lives. Druvaraj NV's works capture the innocence of rural landscapes, but are also reminders of a lurking danger around his home at Payyannur in Kannur. Quarrying is rampant there and his concern about the houses and people living there comes through these acrylic works.
Vivek VC's 'Grandma's Nightmare' series has been inspired by his grandmother's encounter with Alzheimer's. "It is a situation where memory oscillates between the past and the present. I am trying to create a language to bring out that uncertainty, based around themes such as death and decay. This is an ongoing project and, now, I am trying to identify regional ghost stories to develop a parallel narrative," Vivek explains.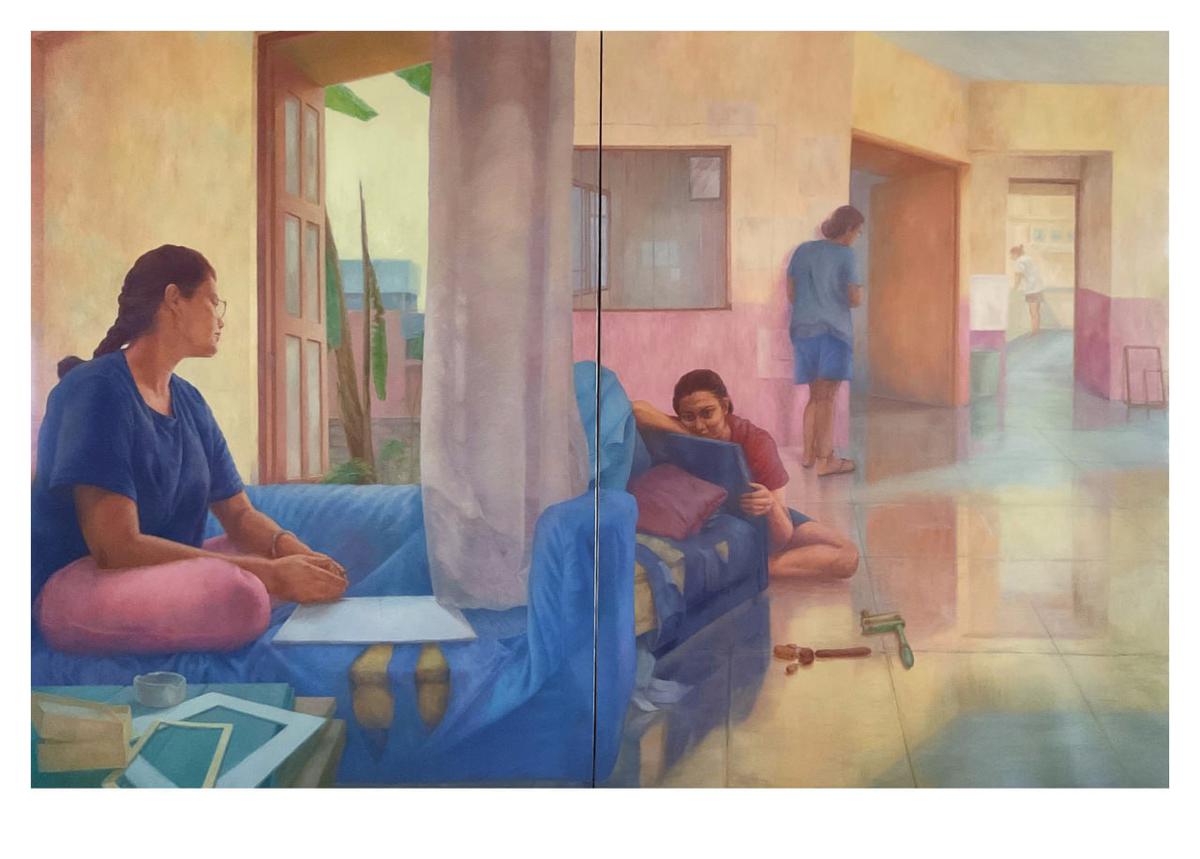 Haryana-based Mehak Garg started her 'Behind the Door' series when the world went into the pandemic-induced lockdown. "We were trapped in our interior spaces and I explored that predicament. Later, I began exploring spaces by depicting a particular space in different ways. It is all about creating an environment that is silent yet indulges you in a conversation," explains Mehak, who has put up five works in oil. One of them is a self-portrait, which sums up her "feelings and emotions" when she moved to Kerala for her studies.
The artist has also put up a collection of mini canvases, featuring familiar sights. "Some of them are empty spaces because they fascinate me. I feel there is a story behind those spaces. I have also brought together a lot of images that you often tend to ignore or take for granted. Also, I have experimented with paper in these works. For instance, I have worked with oil on the type of paper that is usually used for acrylics," Mehak explains.
Mirrors find a prominent place in the sculptures displayed by Preksha Golchha from Rajasthan. She has worked with terracotta in 'Perceive', which shows several figures standing in a circle around mirrors. "I have been curious about how people think about themselves when they are alone and when they are in a crowd. I discussed it at length with many people and came up with these figures who are observing themselves as well as others in the mirrors," she says.
Preksha adds that she has represented the marginalised through the figures, their livelihood and their lifestyle. "It has to do with where I come from. I have used certain elements from my childhood in the work. For example, jute, which my grandmother used to weave to make cots for us," she says. Mirror is integral to another work by the artist, 'Perceive 2', done in cement and multimedia. "It is connected to my thoughts, feelings…I can talk to the mirror for hours and this work is like a self-study," she says. The artist has also showcased works in cement, the first medium she worked with when she came to Kerala, and stone.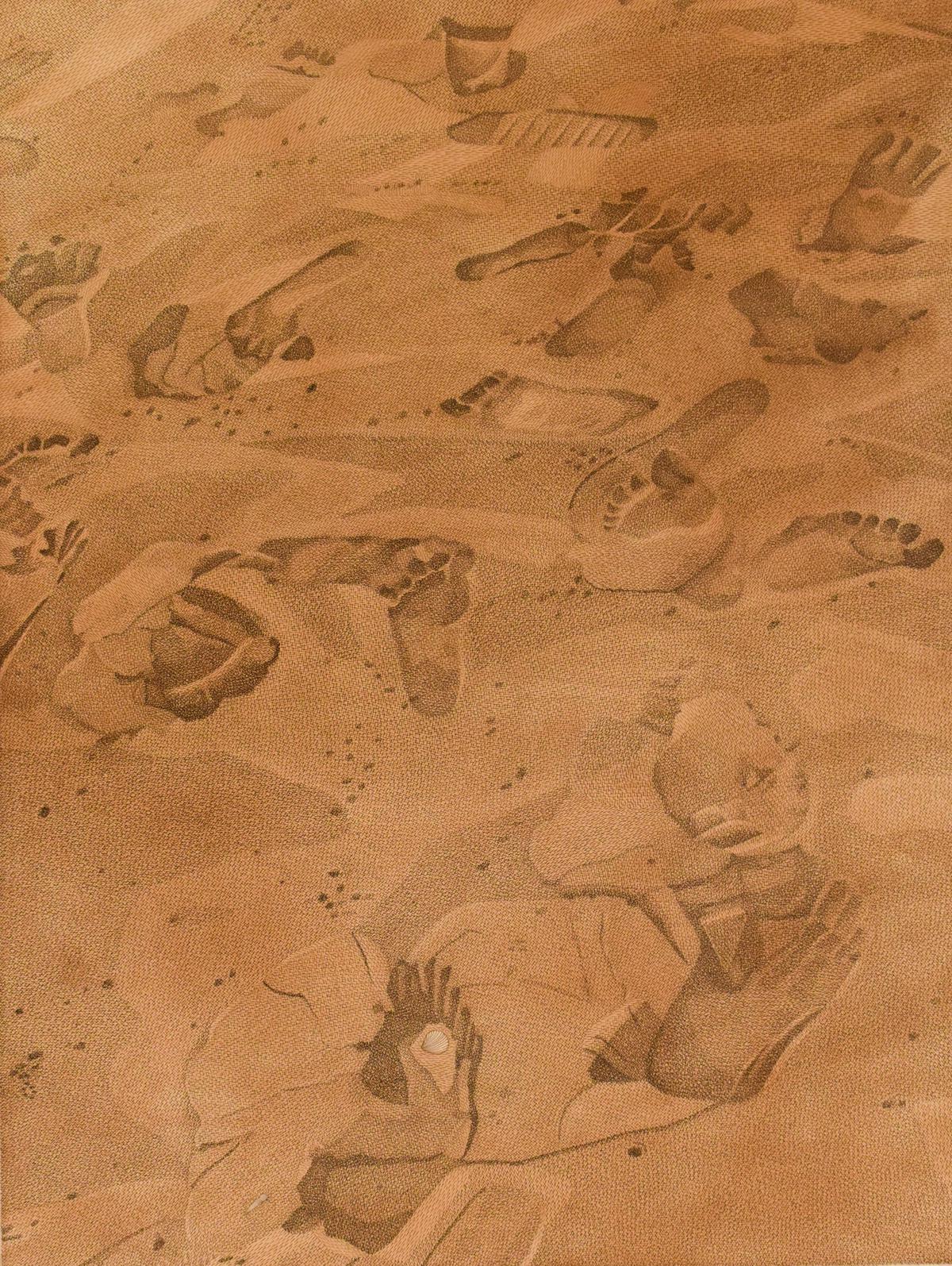 The 'Uncertainty' series by Pritesh Raj is about impressions, rather footprints, which he has equated to the imprints formed on sand. "When you connect with a lot of people, some of them leave behind a mark on you while others don't," he says. The artist has even laid out a layer of sand in the gallery "so that people feel connected with the concept." Most of the works are done on paper with pen, while he has used Indian ink in a few others. "I chose the pen as a medium because it has a character. Once it makes a mark, it remains," he says.
Some of the artists have experimented with the media. For example, Badush Babu's 'Illness' series has used fumes and water colour on paper. The series is dedicated to the medical condition of a family member.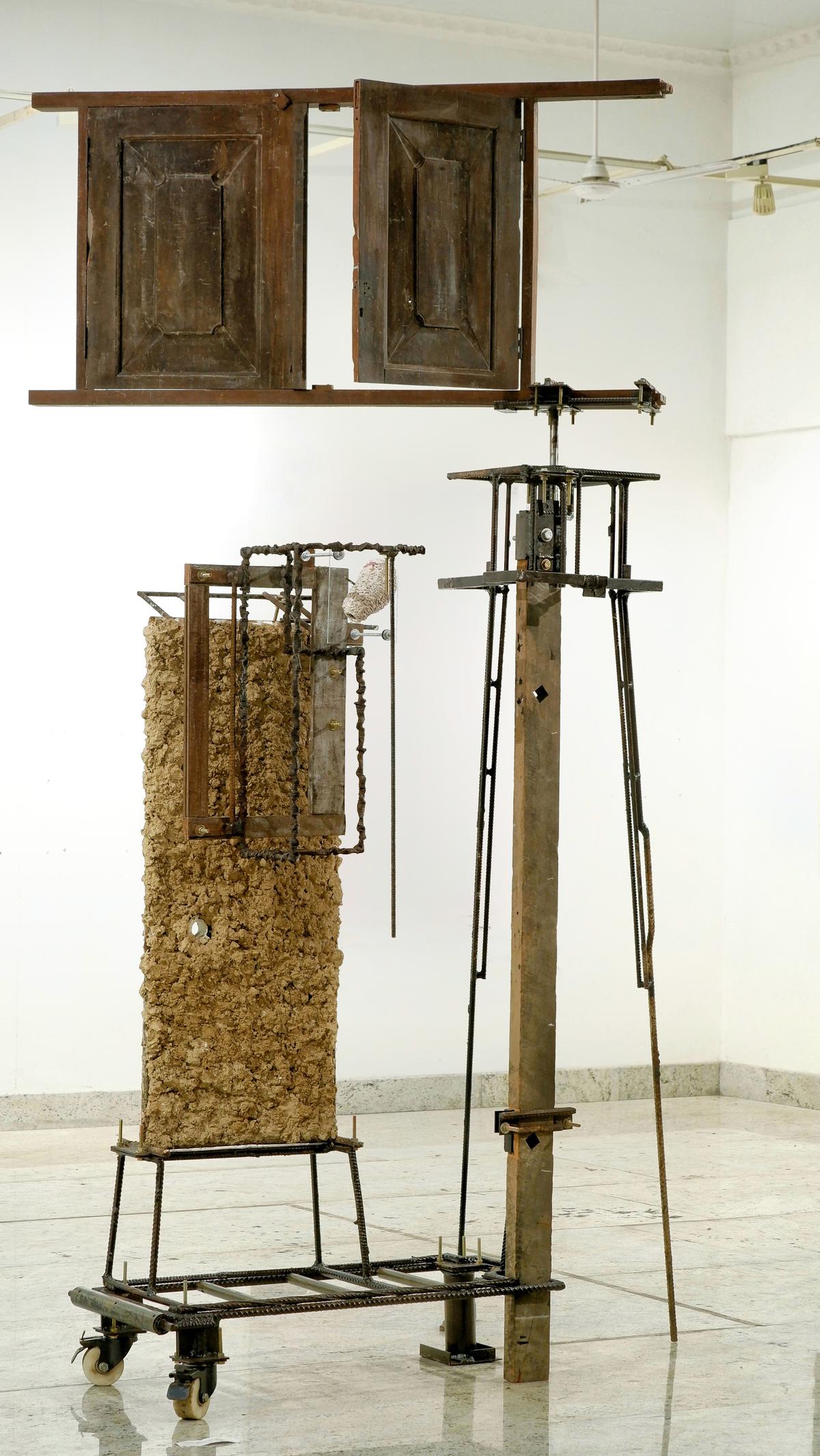 Swaraj Kafoor has opted for the abstract in his three sculptures. "One of them is part of my series where I am trying to bring industrial beauty into art. The language used is not organic. It is all about the structure and geometry," says the artist. The work has been created from scrap — iron rods, wood and discarded windows he found on the college premises. Another sculpture, inspired by a novel on identity politics, "looks at the purpose of kayyala (fence). I have tried to explore if it protects or separates."
The exhibition is on till August 25. Time: 10am to 7pm.