Apple yesterday released the iOS 17 update, which brings a plethora of new features like Contact Posters, NameDrop and Standby mode to name a few. The latest version of iOS and iPadOS also brings a new privacy-enhancing feature that lets Safari users lock their private tabs using FaceID.
It looks like Apple has slightly redesigned the 'Private Browsing' section, which can now be accessed by simply swiping from the Tabs screen, with locked tabs now showing a message that says 'Private Browsing is Locked'.
How to lock Safari Private tabs using Face ID?
If you are launching Safari for the first time after updating to iOS 17, the browser will show a popup that lets you quickly lock private tabs behind Face ID authentication.
In case you missed out, open the 'Settings' app on your iPhone or iPad and under 'Safari', enable the 'Require Face ID to Unlock Private Browsing' toggle.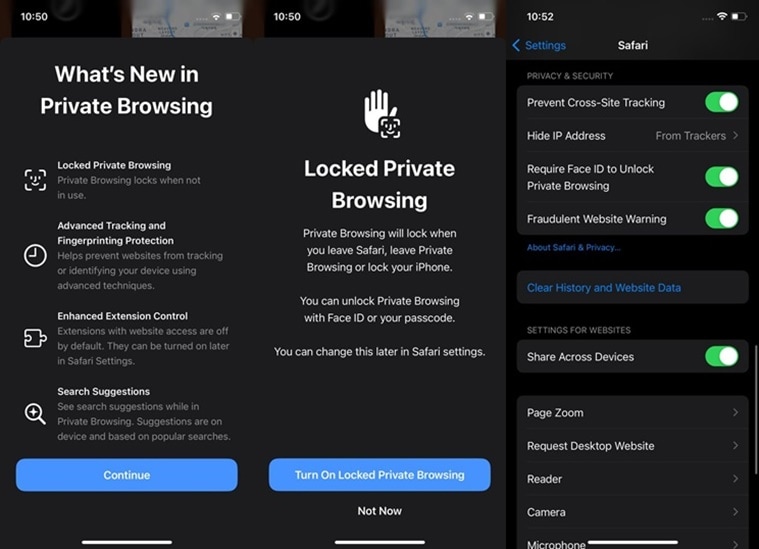 Here's what the pop-up looks like when you launch Safari after updating to iOS 17. (Express Photo)

Once enabled, Safari will ask you to unlock these tabs using Face ID or Touch ID even if your device is already unlocked so you can give your phone or tablet to others without having to worry if they will be able to see your private tabs.

Keep in mind that Private Browsing will automatically lock your tabs when you leave Safari, exit Private Browsing mode or lock your device.

Apart from locking private tabs, Safari also offers a number of features aimed at enhancing user privacy such as advanced tracking and fingerprinting protection and enhanced extension control, which automatically disables all extensions with website access and an option to hide IP address.

In case you don't use Safari on your iPhone and iPad, Chrome for iOS already has a similar feature that lets you lock Incognito tabs behind Face ID or Touch ID