YOUTH RURAL Entrepreneur Foundation, a company allegedly run by Sanjay Rai 'Sherpuria' whom the UP Police claimed to be a conman in its FIR and arrested him last Tuesday, has retired IAS, IPS and armed forces' officers on its advisory board.
While one retired IAS officer in the advisory board is connected with Kiran Patel, a conman who was arrested in March in Srinagar, another advisory board member who was an IPS officer, was embroiled in the 2018 CBI vs CBI battle. In fact, this IPS officer's son runs another company with a YREF director. This company, incidentally, once had the same address as Sanjay Rai's, as mentioned in the FIR registered by the UP Police.
As per the records of Ministry of Corporate Affairs, YREF was incorporated on October 30, 2019, and while its registered office is in Varanasi, it operates from Ghazipur. YREF did not disclose its shareholders, and stated in the filings with the Registrar of Companies that it was not required as the company is "limited by Guarantee".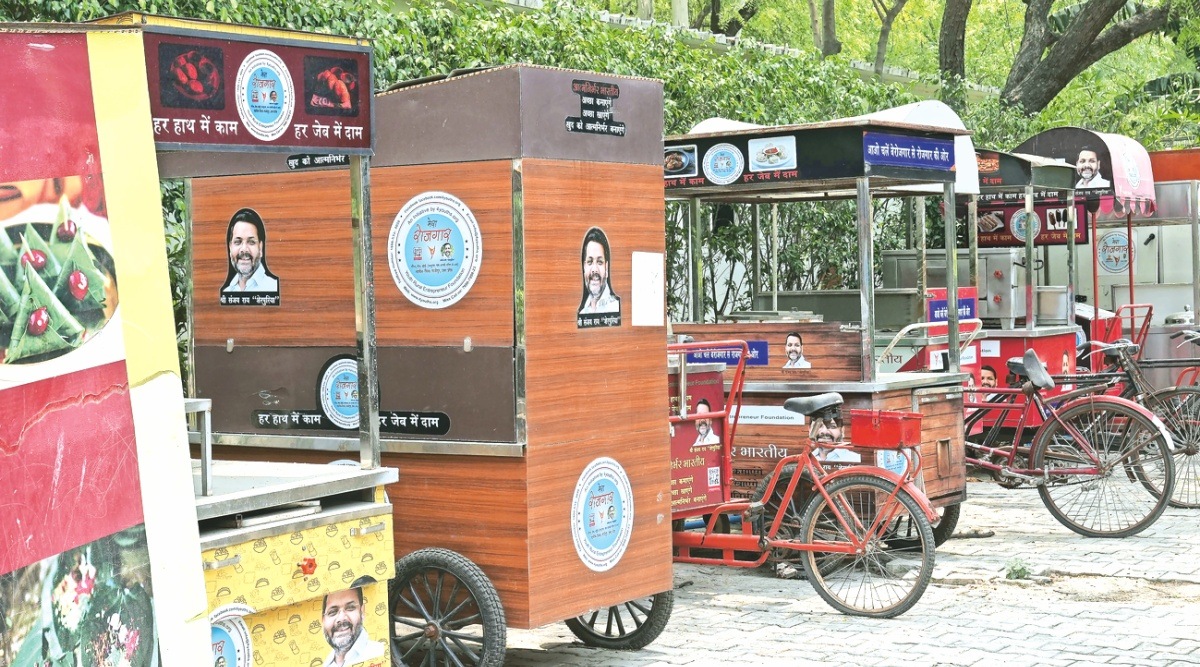 Outside Sherpuria's office at Golf Course Road, New Delhi. (Express Photo by Abhinav Saha)

While Sanjay Rai does not hold any position in YREF, his handle in various social media features his pictures with various prominent ministers and shows him leading various activities. The UP police have claimed in the FIR that Sanjay Rai runs YREF, and that "he cheated many claiming proximity to those in power and by showing his pictures with the Prime Minister and other Cabinet ministers, thereby harming their reputation".

Explained
Not a mere conman
YREF has six persons on its advisory board, and has six additional directors.
One of its additional directors, Pradeep Kumar Rai, is a "designated partner" in a Delhi NCR company, Niveshan Ventures. The other partner in this company is Kushagra Sharma, son of retired Gujarat cadre IPS officer AK Sharma. RoC records show Niveshan Ventures was registered at Delhi Riding Club at No. 1, Safdarjung Road, New Delhi on November 16, 2017. This is Sanjay Rai's address as mentioned in the documents seized from him by the UP Police.
Niveshan Ventures later changed its registered address to S 31, S 32A, First Floor, Hargobind Enclave, Opposite DLF Gate, New Delhi.
At the peak of war within the CBI between then Director Alok Verma and Special Director Rakesh Asthana in 2018, Asthana wrote to the then Cabinet Secretary alleging Pradeep Kumar Rai to be "in the list of undesirable contact men" as maintained by the government. AK Sharma was then a joint director in the CBI. Pradeep Rai's lawyer had then denied these allegations.
Sharma is now on the advisory board of the YREF. He did not respond to calls, but informed through a message he was travelling. He did not respond to subsequent calls and messages.
Also, on the advisory board of YREF is 1978 batch IAS officer (retired) of Gujarat cadre, SK Nanda. Nanda had helped alleged conman Kiran Patel, arrested in March in Jammu and Kashmir for masquerading as a PMO official, organise a G20-related conference in Gujarat.
Others on the advisory board are Vice Admiral Sunil Anand, AVSM, NM (Retd.), Air Commodore Mrigindra Singh, VSM (Retd.), another Uttar Pradesh cadre IAS officer of 1982 batch who is now retired, and an activist.
YREF claims to work towards creating jobs by harnessing the entrepreneurial potential of rural youth and through modernising farming practices.
When contacted by The Indian Express, Nanda said he had met Rai "a couple of times as he was a manufacturer from Kutch… and maybe during Vibrant Gujarat" and "that was all". Vibrant Gujarat is the biennial investment summit hosted by the state government.
"I don't know how he has listed me on the advisory board. I have never participated in any of the meetings. Maybe he was influenced by my activities for youths," Nanda said.
When contacted, Air Commodore Mrigindra Singh said, "I have known him when I was in service. I haven't met him in the past four years, but we have been in touch. He came across as a nice person who was also very well connected in the power circles. He may have taken my consent at that time for the advisory board, I don't remember. But I have no active association with the NGO," he said.
Vice Admiral Sunil Anand too denied association with YREF. "I know Sanjay Rai and have met him. But I don't remember him asking me to make me part of the NGO's Advisory Board. I have nothing to do with this NGO," he said.
Documents reviewed by The Indian Express show that YREF received Rs 7.84 crore as donations in 2022-23. The donors include several Delhi NCR companies including Dalmia Family Office Trust and even a PSU bank. Shipra Estate Ltd, a Shipra Group company, donated Rs 1 crore; Gurugram-based NIA Software India Ltd paid Rs 20 lakh to YREF as donation in October 2022; Delhi NCR-based Sebros Industries paid Rs 50 in two tranches in January this year.
In the year ended March 2021, it reported revenues of Rs 1.34 crore of which Rs 1.3 crore came from donations. As per its filings with the RoC, it spent Rs 87.8 lakh in social and charity expenses.
In the financial year ended March 2020, YREF had reported a total revenue of Rs 92.5 lakh of which the entire amount came via donations. In the filings with the RoC, it claimed to have spent Rs 35.25 lakh on charity.
Senior officials of all these companies, who did not wish to be named, confirmed making donations to YREF, but said these were given to charity as part of their CSR commitment. They, however, did not respond officially to mails sent by The Indian Express. YREF too did not respond to mails sent to its official email address available in the Ministry of Corporate Affairs.